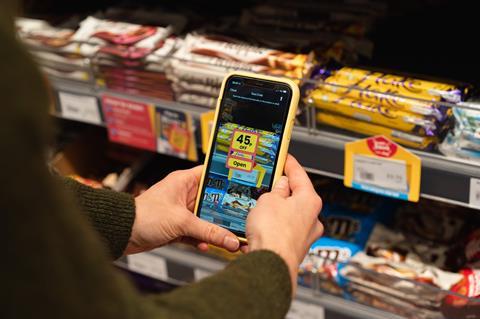 Online convenience platform Jisp has launched a new promotional tool, Scan & Save.
The augmented reality voucher system launched today at Nisa Local Bradley's store in Loughborough before a wider rollout across 12 further Nisa stores.
Customers with the Jisp app will be able to access promotional offers tailored to their purchase history.
Discounts of up to 60% will be redeemable when the product's barcode is scanned using a mobile phone.
Initially 65 items will be included in the scheme across brands including Mondelez, PepsiCo, Kellogg's, Molson Coors and Nomad Foods.
"This is truly disrupting technology that will revolutionise the way brands advertise their products in physical stores whilst maximising sales for retailers," said Jisp CEO Julian Fisher. "With a crowd of marketing and promotional materials taking up space, messaging can be diluted or, at worse, confuse customers.
"This technology feeds into our suite of solutions such as home delivery, click & collect and scan & go, benefiting brands, retailers and consumers whilst at the same time providing fresh opportunities for advertising post-HFSS legislation. We are exceptionally proud to be the first UK company to provide this service to brands and retailers of any size and shape."
Nisa head of central operations James Taylor added: "We are thrilled to be partnering with Jisp to trial this innovative solution through Nisa partners and look forward to seeing how Scan & Save performs and, importantly, the response it gets from independent retailers and their customers."