On 12 May, it all kicked off in the world of convenience. PayPoint, that bright yellow box that sits snugly by the tills of over 28,000 UK retailers and allows shoppers to pay various bills, infuriated shop owners by announcing it would be capping the commission earned by retailers on prepay energy and bill payment transactions, effective 18 May.
Without delay, the National Federation of Retail Newsagents (NFRN) swung into action and launched a vigorous campaign against the proposals, with NFRN CEO Paul Baxter describing PayPoint's plans as "despicable and deplorable" and "tantamount to exploitation".
He threatened to make a formal complaint to the Payment Systems Regulator (PSR) and launched a campaign against PayPoint on the NFRN website using the hashtag #PayPointPayFair to whip up support on social media.
"Having previously raised our concerns with PayPoint they have not listened," said Baxter. "We can, therefore, no longer sit back and watch whilst this company funds its profits at the expense of our members."
And it appears to be having an effect. As the results of our barometer (see over, right) show, 16% of retailers asked by The Grocer plan to ditch PayPoint as a result of the row, while a further 30% are considering it.
So what is NFRN's beef? Is PayPoint's defence valid? And is there any chance of a fair compromise being reached, or does PayPoint face an expensive exodus?
Competitive market
The NFRN took drastic action because, it claims, far from making money, the 9,000 (of its 15,000) members with PayPoint terminals are actually losing money once bank charges, staffing time and other overheads such as electricity, broadband, higher insurance and charges to PayPoint are factored in.
"Him! research also shows PayPoint-specific customers spend £2.23 more per visit on shop items than users of other services"
With the financial rewards worsened as a result of the cap, the NFRN says its members face choosing whether to provide a loss-making service or withdrawing it altogether, to the detriment of customers who rely on PayPoint to pay for utilities. And the NFRN is not about to let its members down without a fight.
"If PayPoint thinks retailers are going to work for nothing to put profit in their pockets, I have news for them," blasted NFRN national president Martyn Brown in May. "We will fight this with everything at our disposal. And I rule out nothing!"
So how much does a retailer make from a PayPoint machine? The NFRN supplied The Grocer with a PayPoint invoice analysis based on one minute per transaction and a national minimum wage of £6.50 an hour. This determined that in the case, for example, of 968 transactions with a value of £13,661.20, £71.85 commission was earned, equivalent to 0.53% of PayPoint turnover. When it factored in £104.87 wage costs, PayPoint made a loss for the retailer of £33.02.
On another occasion, 21 transactions totalling £920 earned a commission of £22, equivalent to 2.39% of PayPoint turnover. When £2.28 wage costs were factored in - fewer transactions that are higher value are more profitable in terms of staff handling time - the retailer made a £19.72 profit, the NFRN said.
But throw in what the NFRN's head of operations, Margaret McCloskey, says is a bond of up to several thousand pounds for credit purposes, £120 annual fees for faster broadband for quicker transactions, insurance cover for higher levels of money handling and the requirement to add the security of parcel handling to their insurance policy and it does, on the face of it, sound like a deal stacked firmly in PayPoint's favour.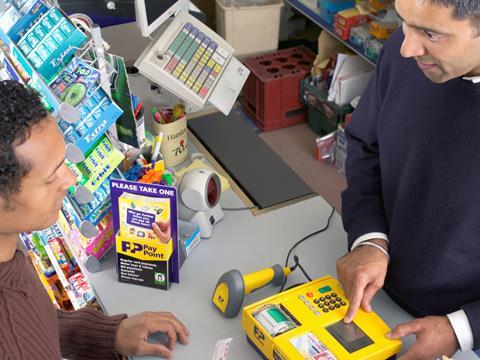 Footfall and sales
In its defence, PayPoint pointed to "market conditions" for the introduction of the caps. "This is not a monopoly," said PayPoint's then head of corporate affairs Peter Brooker. "It's a competitive market. The Post Office, which receives a massive subsidy, is known to be bidding for contracts at a much lower level than they were previously accepting and Payzone is hugely undercutting and, we believe, coming in at cost."
PayPoint has also been clear the commission cap will only apply to prepay energy and bill payment transactions, which it says account for only a quarter of all commissions paid over the past 12 months. And although lower caps have been introduced, the 0.5% commission rates on each transaction remain the same.
Who is PayPoint?
PayPoint launched in 1996 and is the UK's biggest payment network. It allows customers to pay for a wide range of things in even the tiniest c-store, from gas, electricity and water bills, TV licences, council tax, social housing rents, fines, road tax to pay-as-you-go mobile phones.
Today PayPoint handles more than £14bn of payments arising from 800 million transactions every year from terminals in more than 37,500 carefully chosen convenience stores in the UK, Ireland and Romania.
PayPoint has also diversified into a range of other services including parcels (via Collect +, a joint venture with Yodel that handles over 16m parcels a year via almost 6,000 retailers), money transfers, debit/credit processing and receipt advertising.
Revenue and profits are on the up. Its last set of results for the year to March 2015 showed an 8.3% rise in sales and a 7.7% increase in profits. Its share price also continues to grow. It floated in 2004 for 206p and shares currently stand at 1003p.
It may be performing well but, as PayPoint has pointed out to those attacking it for cutting the commission it pays to retailers, it doesn't have a monopoly on the primary services that it offers. It has rivals like the Post Office and the similarly named Payzone, which also allow customers to pay bills, post parcels and suchlike.
The launch of other high-profile payment services based around simplicity and convenience, like Apple Pay, could also be a future threat.
However, while services like gift cards, Collect+ and mobile eVouchers and top-ups remain the same in terms of commission, the maximum payable commission for each prepay energy, television licence and contactless transport smart card has fallen from 13p to 7p and for general bills such as electricity, from 13p to 10p.
PayPoint also cites research carried out by Him!, that highlights the extra footfall and add-on sales that PayPoint creates, and argues the additional customer numbers and subsequent sales are where the potential for retailers to make money lies. According to Him!, PayPoint customers spend on average £7.70p per visit on other shop items and visit 4.6 times a week.
It also found that 26% of PayPoint customers buy tobacco, 23% purchase bakery, 17% pick up milk, 19% grab some confectionery and 17% reach for a soft drink.
Him! research also shows PayPoint-specific customers spend £2.23 more per visit on shop items than users of other services. This would suggest that the presence of PayPoint services, even if not profitable in themselves, can lead to overall profit when incremental non-PayPoint sales are factored in.
However, it is hard to prove whether the PayPoint customers would have come into the store and shopped anyway, so calculating profit and loss with any accuracy is hit and miss. One would need to calculate what business a shop did for a set period before the terminal was installed and what business it did in the equivalent period afterwards and, even then, there would be many other variables to bear in mind.
"We can no longer sit back and watch whilst this company funds its profits at the expense of our members"

Paul Baxter, NFRN CEO
Marcus Bergin, a Gloucestershire independent who owns Supernews in Eastgate Shopping Centre, rubbishes PayPoint's footfall defence, arguing that footfall does not necessarily translate into shop sales, although in reality, any retailer's experience will invariably depend on local demographic, the quality of the shop, attractive merchandising, effective marketing, availability of promotions and a willingness to upsell.
Other aggrieved retailers also point to high banking charges: claiming they are effectively paying a charge for banking PayPoint's money. PayPoint says it has been trying to negotiate cheaper cash handling costs with banks and has introduced mitigating products and services such as its self-fill ATMs.
And not every retailer says they are getting a raw deal. The results of our barometer (right) reveal mixed feelings about the affair. Although 75% of respondents are "unsatisfied" about the level of commission they earn, Adeel Bashir, who has four Kasa convenience stores in Leeds, is among the 25% who buy into PayPoint's argument that the terminal is profitable for him because of the extra purchases users make when visiting his store, which average between £5 and £10.
Bashir also frequently changes his bank in order to qualify for free banking for a limited period. "You have to work for it to get the money out," he says.
Brokerage firm Numis, in a company update on PayPoint on 5 June, said while its own calculations showed a "typical" retailer made a loss of £369 last year on bill payment transactions, which after the cap decrease would increase to a £436 deficit, it calculated an average retailer would still make a small profit of £200 once other higher margin PayPoint transactions such as phone top-ups and parcels, were included.
Business barometer
Do you offer PayPoint?
● Yes 56%
● No 44%
Do you believe it generates significant footfall?
● Yes 59%
● No 41%
Are you satisfied with the commission it earns?
● Yes 25%
● No 75%
Do you support the NFRN's complaint about PayPoint to the Payment Systems Regulator?
● Yes 51%
● Undecided 38%
● No 11%
Do you plan to stop offering PayPoint in light of the commission cap?
● Yes16%
● Undecided30%
● No54%
Still, the new caps mean this is 30% lower than the £285 profit last year. And the figures are profit before what Numis calls "debatable value" from increased store footfall and associated non-PayPoint sales.
Retailers have also pointed out that PayPoint announced a 7.7% rise in pre-tax profits for the year to 31 March, up from £46m to £49.6m. And last Wednesday, it said transactions were up 6% from 189.3m to 201.6m for the three months to the end of June, positive results that offered fuel to the #PayPointPayFair campaign.
Bergin adopted the PayPointPayFair hashtag to campaign on Twitter, Facebook and Pinterest. But although the initiative started well it descended into chaos after an increasing number of abusive, crude and insulting posts were aimed at PayPoint by livid retailers.
PayPoint marketing director Steve O'Neill belatedly joined in a Facebook thread to request participants keep it "calm and respectful". But some of them did not.
A couple of weeks later, Bergin confirmed on Facebook that as a result of the "personal attacks, bad language, inappropriate videos and aggressive behaviours of members towards PayPoint, it is no longer interested in this group".
Ultimately the abuse worked against the more pragmatic retailers who had attempted to engage professionally with PayPoint in a bid to reverse the cuts and amend the service's terms and conditions.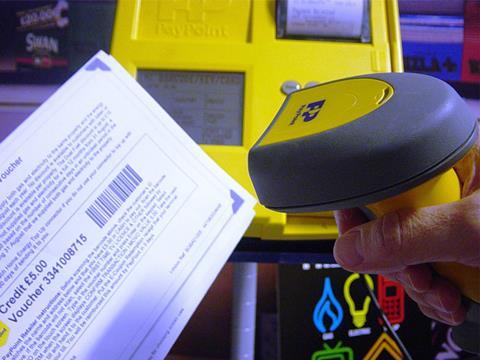 Vitriol
Specific vitriol had been reserved for Dominic Taylor, PayPoint's CEO, who was quoted out of context in an article that made it look as if he had made racist comments. The "wholly false statements" kept cropping up on social media, forcing Taylor to defend himself.
"For the avoidance of doubt, in an interview with Retail Newsagent, upon which these allegations were based, I made no comment about the ethnicity of our retailers," said Taylor. "I am thoroughly appalled and shocked by the accusations of racism and I want to refute these allegations in the strongest terms."
What Taylor had said was that some Facebook commentators were based in countries outside the UK and those members were therefore not PayPoint clients and their views might not be representative of the UK-based businesses.
"I'm appalled and shocked by the accusations of racism and I refute them in the strongest terms"

Dominic Taylor, PayPoint CEO
Baxter says the NFRN has no control over what its members and others do on social media where anyone can post anything they want and which invariably attracted hangers ons that had nothing to do with PayPoint in the UK.
Anyone with any understanding of social media would agree with that. However, that the campaign has been derailed in such a mindless and aggressive manner doesn't bode well for compromise. And it's not just social media muddying the waters.
Some retailers have refused to let people use their PayPoint machines unless they buy something, but they have suffered the consequences, like Bergin, who tweeted that Simon Lambert, PayPoint's head of operations, had suspended his account. The Grocer understands PayPoint took exception to Bergin insisting customers make a purchase to use PayPoint in his store, which is contractually forbidden.
The future

Against this backdrop, both sides came together for a meeting on 20 July "to discuss next steps" according to PayPoint's O'Neill. He described it as "a very positive and open discussion" with "lots of common ground, lots of challenges, but a commitment to working positively and collaboratively for the benefit of retailers."

As for the NFRN, Baxter described the meeting as "a long day but we had a very robust, full, open and frank discussion. The onus is now on PayPoint to see if they deliver on what was promised."

Which sounds like a reasonably positive outcome compared to the social media debacle. Although whether the solutions mentioned by PayPoint will include reversing the commission cap that kicked off the controversy in the first place remains to be seen.