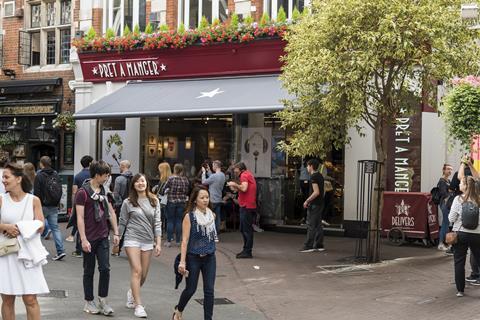 Pret a Manger has launched a new loyalty programme, Pret Perks.
It will see customers earn a 'star' with every item of food or drink, with 10 stars exchangeable for a reward such as a vegan cookie or popcorn.
The high street sandwich chain's 'YourPret Barista' coffee subscribers, who pay £20 a month for up to five beverages per day, will be the first to trial the new scheme from today, 30 November, ahead of a planned rollout to customers more widely next year.
YourPret Barista members will also earn a star for every monthly renewal of their subscription.
Customers will have up to 30 days to redeem their rewards.
The loyalty scheme is the next stage of Pret's transformation plan, mobilised amid a slump in sales during the pandemic.
"For a while now, we've wanted to find a way to reward our customers by giving them treats that are specifically tailored to their preferences, and Pret Perks does just that," said Pret a Manger MD Clare Clough.
"As with any new piece of technology we are currently in the testing phase and rolling this out slowly to our Pret superfans, our coffee subscribers, and will be looking to take learnings on board to make the loyalty programme the best it can be.
"Over the past 18 months we've responded to how people now want to interact with our brand and products, from launching bake-at-home croissants to growing our digital capabilities through the launch of Pret's coffee subscription.
"We're excited by this latest digital evolution, which allows customers to engage with our brand. Pret Perks is our new way to thank our wonderful customers for choosing Pret each time and we look forward to rolling it out to the masses in the near future with unmatched rewards."
Pret recently announced plans to double the size of its business in the next five years, backed by a £100m net investment from its founder Sinclair Beecham.
It has also taken on One PM Franchising as its latest franchisee, a tie-up that will see it reach new regions and countries across the Middle East and Canada.