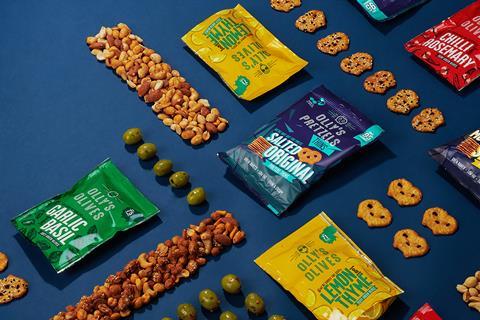 Snacking start-up Olly's has netted a £500k investment from private investors.
The half a million-pound sum came "mostly" from one angel investor with an fmcg background, with the rest made up by the brand's current investor base, its founder Olly Hiscocks told The Grocer.
It plans to use the funds for new product development and to support retail listings both in the UK and overseas.
"We have spent the last few months building out the Olly's brand to be a leading player within healthy snacking and this investment will be an incredible support to all of our new product ranges and listings in the UK and abroad," he said.
Olly's has already launched nut pouches and pretzel thins over the previous few weeks, its online sales having soared during lockdown.
The brand had listed excess hospitality stock on Amazon as a bulk-buy option, the success of which led to the launch of smaller individual portion sizes last month.
Olly's has also launched its olive SKUs into Boots as part of the retailer's meal deal.
Hiscocks said the health and beauty retailer had delisted its own-label olive SKUs to make room for Olly's branded range, which will sit as a snack option in the lunchtime meal deal bays.