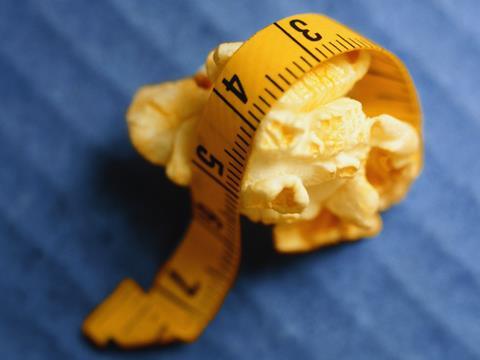 There is no doubt popcorn is hot in the snacking world. No longer just a cinema treat, consumers are opting for popcorn as a regular, 'healthier' snack.

The category, now worth £120m in the UK, is growing fast and, sensing a chance to cash in, big brands have been keen to get on board. But to date Walkers has had limited success. Now PepsiCo is taking a different tack, launching US popcorn brand Pop Works & Company in the UK this month after recognising "a tremendous opportunity" for growth beyond the 'family movie night' occasion. Comprising four flavours designed to suit British tastes - Sweet & Salty, Sticky Toffee Pudding, Peanut Butter & Caramel and Apple Pie - the brand is looking to bring something different to the market.

But can a new popcorn brand be a game-changer in a category already full of brands trying to make their mark? Or is the popcorn party fit to burst?

The figures suggest it may have missed the peak of the popcorn boom. Although value sales are still growing, they're slowing down - increasing 13.6% year on year [IRI 52 w/e 16 July 2016] compared with 30.8% just six months earlier [IRI 52 w/e 5 December 2015].

On the other hand growth is not exactly shabby. Butterkist remains the largest in the category with £45.5m value sales, an increase of 8.1% year on year. The biggest risers are second largest brand Metcalfe's, up 26% year on year to £13.5m, followed by Propercorn, up 24.1% to £11.7m. And supermarkets (like consumers) are lapping up the weird and wacky flavours. There have been 131 new popcorn listings over the past two years [Brand View], of which Metcalfe's and Butterkist racked up 27 and 23 respectively across Asda, Morrisons, Ocado, Sainsbury's, Tesco and Waitrose.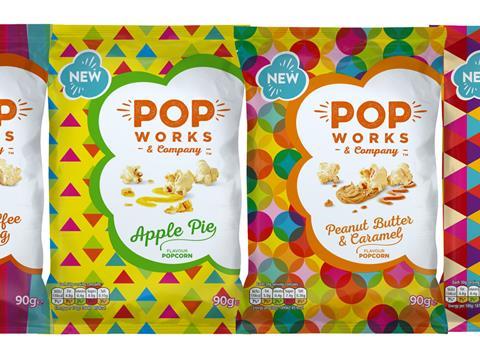 While Butterkist is an old well-established player, most of the players are relatively new brands: Propercorn launched in 2011; artisan brand Joe & Seph's in 2010, Metcalfe's Skinny in 2009. Even Tyrrells only made its entry into the popcorn market in 2010.

But still they come. This year alone has seen 13 launches, including Fit Corn - from the original founder of Tyrrells, William Chase - The Nude Popcorn Company in May, and Popcorn Shed, which launched three flavours in June.

Walkers has also introduced a popcorn variant under its Sunbites brand, and value sales have hit £1.1m since its launch, while The Nude Popcorn Company has already seen £560,669 in sales, just two months after launch.

IRI hails the energy in the market. "Manufacturers and retailers have found a way to collaborate and champion the right innovative NPD. Unusual flavours, healthy snack positioning and quirky packaging are just some of the ways they've done this and it's really paying off," says Tim Eales, IRI director of strategic insight.

Defying the NPD trend

He stresses the importance of NPD in the category. According to IRI's NPD study, the total grocery market saw 13% fewer new branded items launched in 2015 than 2013, with the proportion of the total food market generated by NPD just 1.7%. However, in the popcorn category NPD contributes a much greater percentage of value at 2.7%.

"Categories are under pressure from retailer range rationalisation and we're just not seeing NPD investment. But for popcorn it is a different story, with new products hitting the shelves frequently and doing really well," adds Eales.

Others are unsure over PepsiCo's timing, though. On one hand, there's a positive picture. Slowing growth has not exactly deterred investors from entering the category.

Diamond Foods took full ownership of Metcalfe's Skinny this month, acquiring the remaining 74% of the business, while Propercorn received a £7m cash injection from private equity player Piper and JamJar in August. Propercorn, which has just launched 'half-popped' Crunch Corn this month, is set to launch further NPD by September next year, according to co-founder Ryan Kohn.

But there are signs of turbulence. Butterkist's future is unclear after Tangerine Confectionery's private equity owner Blackstone instructed Stamford Partners to find a buyer in July, despite the brand growing its value 30% last year [IRI 52 w/e 5 December 2015].

Meanwhile, there were 90 delistings over the past year [BrandView]. Butterkist and Tyrrells had the greatest number of branded delistings at 11 each, while own label suffered 22 delistings across the supermarkets.

Saturation point?

"I would not recommend any further new entrants into the UK popcorn market," says Shaun Browne, MD of Houlihan Lokey's Consumer Food & Retail Group, who sold Metcalfe's Skinny and advised on Blackstone's original investment in Tangerine Confectionery. "While it is great to participate in a growing category, the four market leaders in branded popcorn in the UK - Butterkist, Metcalfe's, Tyrrells and Propercorn - are all trying really hard to increase their market share. That kind of battle will not make it easy for any new entrants."

Flavours are key too. Of the 90 delistings this year, sweet popcorn suffered around twice as many as savoury.
"The four market leaders in branded popcorn in the UK are all trying really hard to increase their market share. That kind of battle will not make it easy for any new entrants."
But for Simon Peacock, director of Catalyst Corporate Finance, it's not a question of sweet or savoury: it's about being innovative - which Pop Works flavours certainly are. "It's still a good place to be and put money into - whether you're a corporate investor or you're a private equity type investor, there's still a lot you can do with it. But you've got to be innovative. You can't think just because I do popcorn and put it in a nice brand and do one salty and one sweet that you're going to be successful. You're not," he says. Pop Works is certainly showing creativity but a more crucial factor in its prospects is the sheer size of PepsiCo, a global behemoth in snacks. "If you were a larger food group looking at buying a smaller popcorn business, I'd probably question if you were buying the number three or the number four. You're probably wasting your time," he says. So PepsiCo will need to go big with its new launch. But its heft means it could well succeed, he adds.
However, the company would do well to remember the fate of its Red Sky crisp brand, which failed despite PepsiCo's Walkers brand accounting for £660.2m of the £911m UK crisp category [IRI 52 w/e 27 February 2016 and Kantar 52 w/e 3 January 2016]. It goes to show: size isn't everything. To take on the established brands, the new PepsiCo range will need to truly wow consumers. And in this crowded marketplace, that is no mean feat. It's an advantage that Browne acknowledges.

"I can understand PepsiCo wanting to enhance their UK popcorn market share. They have a very strong position with Walkers and a relatively weak position in popcorn - which they're trying to rectify," he adds. "But it won't be easy."