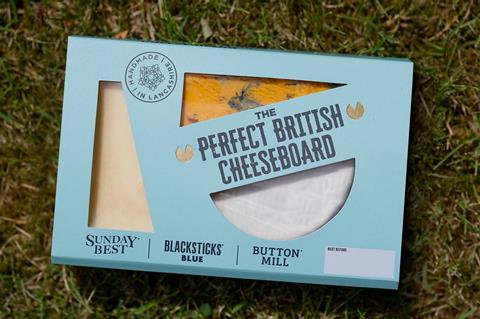 Butlers Farmhouse Cheeses has developed fully recyclable packaging for its hard, soft and blue cheeses, claiming an industry first with its "fully recyclable British cheeseboard".
The Lancashire-based cheesemaker, best known for its Blacksticks Blue cheese, said its new packaging was able to be recycled as one unit, including the label. There has been no compromise on shelf life.
Standard plastic cheese packaging contains several different types of polymers, including a barrier for freshness, which are difficult to recycle.
However, Butlers has developed a single packaging polymer that can be widely recycled. It includes the label and a barrier that is injected into packaging, which can be tailored to any of its cheeses.
The packaging was developed by industry experts including Ian Schofield, known for his plastics work with Iceland, over the past 12 months. Butlers has already started rolling out the packaging across its range, and will introduce the recyclable plastic to its This is Proper Goats Cheese line, sold in M&S, in November.
Butlers is also in phase two trials for further packaging innovations, including natural alternatives such as seaweed, it said.
"Sustainable cheese packaging doesn't have to be – and absolutely shouldn't be – a goal for five years' time, or for the 2022 plastic tax levy," said Schofield.
"We had no interest in short-term solutions like reduced plastic or TerraCycle initiatives that rely on the end consumer," said Schofield. "We know the recycling infrastructure isn't where it needs to be today, but we didn't allow this to stop us. Doing this now is the right thing to do – the waste streams will follow."
The supplier now had "a credible solution for the shopper that is doing the right thing for the environment", said Butler's owner Matthew Hall.
"Transforming our packaging now, for the future, is a big step forward, and anyone wanting to leverage the growth within speciality cheese with a range of farmhouse cheeses that deliver great taste, real provenance and game-changing packaging, should get in touch."