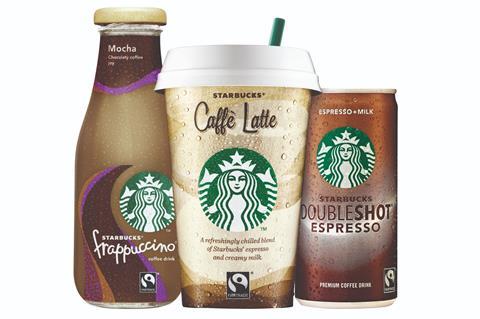 Starbucks has overtaken Yazoo to become the number one flavoured milk brand in the UK, new figures reveal.
It is the first time an iced coffee brand has taken the top spot in the category.
The global coffee shop giant's iced coffee added £9.1m in sales (+16.8%) over the past 12 months, taking its value to £63.6m [Nielsen 52 weeks w/e 28 December 2019].
While still recording solid growth of 6.5%, Yazoo fell to second place on value sales worth just under £62m. It still sold more units than any other brand – 66.7 million versus Starbucks' 44.6 million.
Since launching in 2010, Starbucks iced coffee had benefited from the brand's "clear presence within the UK psyche" and the country's "increasingly ingrained" coffee culture, according to Adam Hacking at Arla Foods, which makes, distributes and markets the drinks. "Go back 10 years and there was no iced coffee category [in grocery] at all," said Hacking, who heads up Arla's beverages division.
Starbucks would now look to drive its growth even further in 2020 with its first TV appearance coming as part of a "360-degree media package", he added.
Yazoo's parent company FrieslandCampina, which moved into cold coffees last October with its Barista Coffee Co range, said it expected the trend would "keep on growing". Its business unit controller Dan Chesbrough said the category was "typically led by that permissible treat, indulgent occasion".