The UK's high streets are piled high with coffee businesses. So can the market keep growing, and if so how and where?
As 1990s sitcoms went, Friends was pretty envy-inducing. It wasn't just the unaffordable New York apartment. There was also the matter of the pals' second residence: Central Perk. For a UK audience, the idea of a coffee house seemed altogether alien - about as far away from our home-grown, tea-drinking culture as you could get. It was the epitome of metropolitan US sophistication.

So when Starbucks opened its first UK premises in 1998, expectations were high. At the time, Starbucks Coffee International president Howard Behar believed the concept could work in the UK. "We hope to benefit from the pub culture in the UK to make Starbucks a natural meeting place for people," he told BBC News.

It was the start of a seismic change to the UK's high streets. Before long, there was a coffee shop in every town - and growth showed no sign of slowing. Between 2009 and 2019, the number of UK coffee shops nearly doubled from 13,000 to just shy of 26,000, according to the Allegra World Coffee Portal.

But that has now plateaued. In the past year, growth in the number of outlets has slowed to 1.6%. It's a far cry from the heady 12% rate seen five years ago. For the first time, we're hearing about chains such as Starbucks struggling to make stores work. As Allegra Group CEO Jeffrey Young puts it, the industry has had a "wake-up call". So what caused the coffee shop market to explode? Have we reached peak coffee shop? And how might the market evolve in the future?

Arguably, coffee shops are suffering from tough comparables. After all, 1.6% growth isn't poor compared with many other retail sectors. "Some of the recent growth has been so astronomical that small growth seems crazily negative," says Ross Brown, owner of independent coffee shop Browns of Brockley.

That astronomical growth of old was down to a number of factors. If the first decade was one of exuberance, the financial crisis in 2008 proved an unlikely godsend for the industry, says Tim Ridley, founder of United Baristas, a digital platform for coffee businesses.

"Coffee shops actually exploded after the financial downturn," he explains. "All of a sudden, landlords were forced to consider propositions they wouldn't have done before because of a lack of demand. At the same time, a lot of companies downsized their office space and lost meeting rooms so it became more acceptable to leave the office during the day for a meeting in a coffee shop." That all coincided with the rise of internet shopping. As traditional retail spaces were forced to close, coffee shops were ready and willing to take their place.
"Rents are expensive, business rates are up and staff costs have gone up due to fewer Europeans coming here after Brexit"
That made growth easy to come by. Today, the landscape is far tougher. "Rents are expensive, business rates have gone up and staff costs have gone upwards because fewer Europeans are coming to the UK due to Brexit," says Ridley. Indeed, Allegra warned of a possible barista shortage last spring. The Brexit question is also affecting consumer spend. "Consumers have been squeezed since the financial crash but perhaps the final straw has been the whole Brexit uncertainty, which has brought a lot of uncertainty to the economy in general," says Young.

Not even the mighty chains have been immune to the effects. According to Allegra's data, the number of branded coffee outlets grew just 0.9% in the past 12 months. That equates to a net total of 70 new stores.

Big chains have been far more cautious. Costa opened the most at 121 last year, having gained confidence from its deal with Coca-Cola. But even this included drive-thru and travel locations, alongside a "small number" of closures. Caffè Nero had a net increase of just 13 stores in its latest financial period. And Starbucks is closing company-owned stores in favour of franchised and licensed operations. In July, the Mail on Sunday revealed Starbucks was shutting as many as 35 stores in the capital. A look at the most recent financial statement from Starbucks in May complained of an "intensely competitive UK speciality coffee market" and "generally low" consumer confidence.

Allegra's Young compares the coffee chains to "a winning football team". For a long time, the money was rolling in and they felt like "world beaters". That's all changing. "The industry has had a bit of a wake-up call," he says. "When the money was coming in, they just thought 'let's open another one'. Now it's a much more considered approach. Chains are taking their position and figuring it out."
Coffee shops by numbers
The number of coffee outlets in the UK has nearly doubled from 13,034 to 25,892 in the past 10 years, according to Allegra figures. The most dramatic growth has been in the non-specialists, such as supermarkets and convenience stores, now the largest sector with 10,604 outlets. In 2019, there were 8,222 branded coffee shops and 7,066 independent premises.
Number of outlets by year
Branded
Independent
Non-specialists
Total
2019
8,222
7,066
10,604
25,892
2018
8,152
7,022
10,312
25,486
2017
7,588
6,755
9,830
24,173
2016
6,657
6,501
9,405
22,563
2015
6,054
6,257
8,873
21,184
2014
5,560
6,034
7,654
19,248
2013
5,102
5,830
6,129
17,061
2012
4,745
5,633
5,413
15,791
2011
4,413
5,469
4,780
14,662
2010
4,105
5,336
4,511
13,952
2009
3,818
5,236
3,980
13,034
Source: Allegra
Maximising sales
That means a focus on maximising sales in their current estate, rather than aggressive expansion. Allegra figures show sales in the total coffee shop market grew ahead of outlet openings, up 4.2% to £4.5bn. That's been driven by continuing the roster of seasonal, higher-priced beverages alongside a growing focus on food. The chains have put work into on-trend vegan options - Caffè Nero, for example, has just launched a vegan menu including a dairy-free raspberry croissant.

There are also ways to expand without opening new stores. Caffè Nero says its 2016 acquisition of the artisan-style brand Harris + Hoole is driving growth. And Costa is thinking beyond stores with its Costa Express proposition. It installed 1,046 new machines in convenience stores and office spaces across the country last year, and 1,237 the year before that. Ridley of United Baristas believes the model is a safe bet. "From a financial point of view, it really makes sense because you're selling coffee without staff costs or business rates," he says.

This strategy also tallies with the findings of a Mintel report published in November, which suggested the era of rapid-fire store openings was over. "Instead of adding more coffee shop sites to compete with the raft of food-led shops that are now serving coffee, operators will have to explore launching new concepts, including vending machines aimed at consumers who are spending more time in transit and in need of strong coffee on the go," says senior foodservice analyst Trish Caddy.

For independent coffee shop businesses, though, that isn't an option. And they're having an even tougher time than the chains. Just 44 new premises opened in the past year (a 0.6% increase) and the 7,066 total represent 27% of UK coffee shop outlets, down from 40% share in 2009.

They are facing largely the same issues as the major coffee multiples. "The overheads and costs of staff and rent have really increased," says Brown. "While we haven't been personally affected - we have a private landlord - it's probably held us back from expanding."

Plus, there has been a "staggering" increase in competition since Brown opened his doors 10 years ago. "You can now get coffee anywhere," he stresses. "It's not just coffee shops - you can go to the library, the cinema or even Jack Wills and they're selling coffee."

That's reflected in the Allegra figures, which show non-specialists such as convenience stores, supermarkets, book shops and offices were the fastest-growing segment with a 2.8% rise in openings in the past year. Many are offering a very similar proposition at a lower price - or free in the case of Waitrose (though you now have to bring your own cup and actually spend money in the shop to get one).

Unlike high street chains, independents largely don't have access to a mass of cash reserves to tide them over this tough time. A £3 cup of coffee doesn't offer particularly high margins once you take into account costs. In London, independent businesses typically make a profit of around 10%.

However, the independents do have something the chains don't: growing kudos with consumers. Brown has concentrated quite simply on "doing things to a high standard". His shop operates at a "different price point" to the chains - and it's one that people are prepared to pay for a quality offering. (It won acclaim from Time Out for "taking its beans seriously".)
How a typical London coffee shop spends its revenue
Profit: 10%
Rent: 10%
Misc: 10%
Staffing: 30%
Cost of goods: 30%
Business rates and utilities: 10%
Source: United Baristas
Personalised
Allegra named this quality element as a key strength of the independent coffee shop market in its July report. "Those independent cafés defined by razor-sharp menu quality and seamless, highly personalised hospitality face a very bright future indeed," it said. Young adds that there has been a "bit of brand fatigue" among coffee lovers. "Customers are looking for points of difference and a more personalised experience," he says.

London coffee shop operation Grind, which turned over £13m in 2019, certainly seems to have reaped the rewards of a more independent ethos. Although its 11 branches mean it wouldn't be strictly classed as an independent by Allegra - its definition includes operations with up to five outlets - the business sees itself as very different from the chains. Founder David Abrahamovitch wanted to offer something a cut above the mass market, with specialty coffee, fresh food and its transformation into a cocktail bar by night.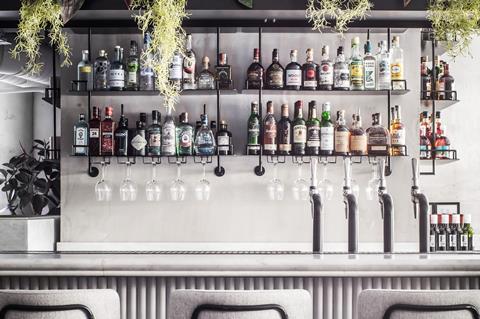 The latter isn't just a plus point for customers. The late hours also get around the rent conundrum. "We've always burnt the candle at both ends," says Abrahamovitch. "In terms of the economics, it just makes sense. Anyone will tell you that London rents can get a little crazy."

As he suggests, London is a tough place to be for a coffee shop right now - and not just because of the sky-high rents. Much of the independent coffee scene has revolved around the capital due to its high footfall and foodie scene. That means it is now "saturated with coffee", says Brown. So finding a gap in the market is tough. Elsewhere in the country, though, there is a much lower density of coffee shops. And these areas could present the next wave of growth for the coffee market.

Figures from the Local Data Company show just how widely coffee shop provision varies across the UK. The town with the highest number for its population - Stow-on-the-Wold in Gloucestershire - has just 204 people per outlet. Ambleside in Cumbria has a similar density of 230 people. That contrasts sharply with areas that have the least provision. Gateshead tops the list with 60,023 people to every premises. Salford, Skelmersdale and Portsmouth all have more than 30,000.

It goes to show that, however overflowing the high streets may seem with coffee shops, the movement hasn't reached saturation point across the country. And as examples such as Stow-on-the-Wold and Ambleside show, the love of a carefully crafted coffee is by no means a metropolitan phenomenon. "There used to be this thing of, 'why go out for a coffee when we could make one at home?'," says Allegra's Young. "But we're more open-minded as a nation and more willing to spend money on coffee shops."

Technology could also unlock further opportunities by lowering staff costs. "The next 10 years will be driven by changes in technology," says Ridley. "I can see that changing how you order coffee. For example, will you still walk into a coffee shop, someone asks what you want, and it's made for you? Or will there be a digital ordering system where you order it yourself, pay for it yourself, and it's then it's automatically prepared by a machine?"
"A big high street chain refurbed next door to us and we got a hundred new regulars. We're really just scratching the surface
Considering the chains have already taken steps to digitise their ordering systems - Costa and Starbucks have both dabbled in apps that allow you to order ahead and pay without going to the tills - it's not hard to imagine such a future.

Ultimately, there is plenty more to do in terms of the speciality coffee scene. Abrahamovitch points out how much it has developed even in recent years. "There was a day back in 2011 when a big high street chain decided to refurb right next door to us, and all of a sudden we had a hundred new regulars who'd never even heard of a flat white before," he recalls. "I think we're really just scratching the surface."

So there is still reason for positivity. Allegra believes coffee shops will "regain momentum" in the next three years. But it will be a "disciplined pace". The glory days of simply opening a Starbucks and watching customers come flocking may soon seem as dated as Friends.
Five independent coffee shops expanding against the odds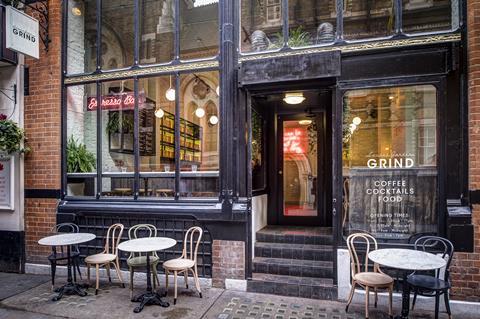 Grind
Founded in 2011
Expansion: Starting out as a lone branch in Shoreditch, Grind has since grown to 11 branches across the capital, in locations such as Greenwich and Covent Garden. The expansion has been achieved through crowdfunding.
Selling point: Founder David Abrahamovitch had one simple vision: to serve good coffee. But Grind has a more unique selling point, too - it transforms into a cocktail bar in the later hours.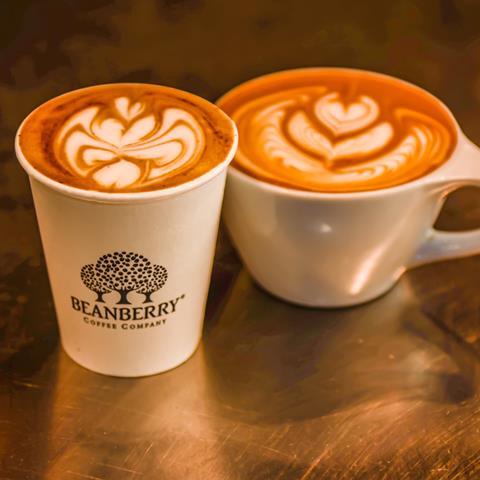 Beanberry
Founded in 2011
Expansion: Beanberry initially set up shop in Kingston upon Thames, and in January opened a second site in Holborn. The company expects the new site to double its turnover in the next year.
Selling point: Beanberry Coffee claims to be the UK's only speciality coffee roaster and retailer "fully dedicated to producing the highest quality organic coffee". Beanberry also roasts on-demand in small batches at its own roastery.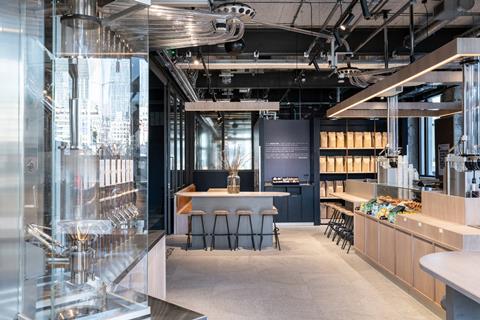 Roasting Plant
Founded in 2019
Expansion: Hailing from the US, this independent business made its UK debut last year with an outlet in London Bridge. A second shop is due to open on the Strand in March 2020. The company says its sales are growing 10% month on month.
Selling point: Roasting Plant says it's the only international multi-unit retailer that roasts coffee fresh in each of its cafés every day for a fresh, "full-flavoured" taste.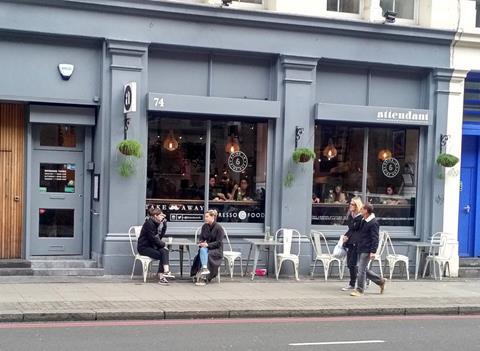 The Attendant
Founded in 2013
Expansion: The Attendant's debut location - a disused Victorian toilet in Fitzrovia, London - gave it a quirky edge. Since then, it has expanded to two more stores in Shoreditch and Clerkenwell, and is on the lookout for new locations.
Selling point: As the initial location suggests, The Attendant likes to make its premises a point of difference. Each café is designed to have a highly individual look and feel.
Gentleman Baristas
Founded in 2014
Expansion: In its six years of operation, Gentleman Baristas has grown to include 10 locations. The most recent branch opened in the Vinegar Yard street food market at London Bridge.
Selling point: This business is based on the coffee houses of the 17th century. And the 'gentlemen' element of its name carries a deeper meaning: its site specifies that "manners are key" and core to the identity of the business.
How the coffee chains stack up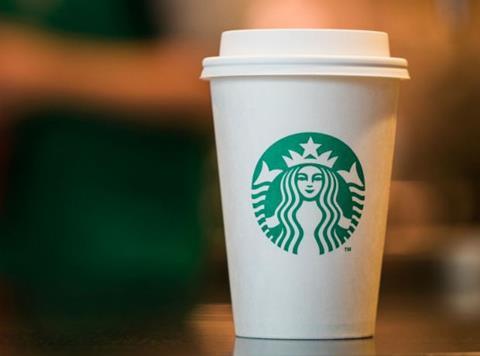 Starbucks
UK stores: 995
Number opened last year: An extra 48 licensed and franchised stores opened in 2018, its latest reporting period, but a net total of 13 company-owned stores were either closed or sold.
Financials: Starbucks UK made a loss of £19m in the year ending 30 September 2018, down from a £670k profit the previous year.
What it says: Starbucks was keen to point out the tough environment in its latest results, citing "challenging" trading conditions and "generally low" consumer confidence. However, the chain did say it was "very encouraged" by the performance of its licensed and franchised stores.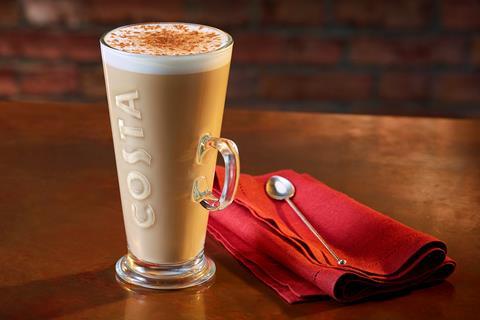 Costa
UK stores: More than 2,700 outlets
Number opened last year: There were 121 openings last year, including drive-thru and travel locations.
Financials: Costa made an operating profit of £136m for the year ending 28 February 2019, up from £122m the year before.
What it says: The chain was decidedly upbeat in its latest results. It was confident that the "strong backing from the Coca-Cola Company" would help it pursue international growth. Plus, the business also singled out Costa Express as a particularly promising means of growth. Costa said its "strong operating cashflow" allowed it to continue opening stores.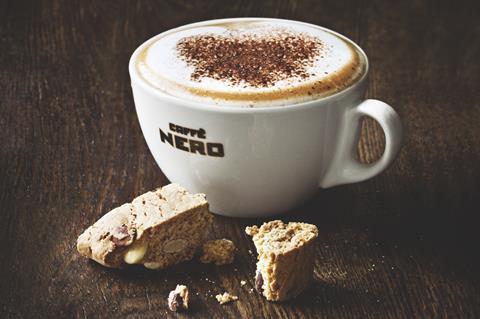 Caffè Nero
UK & Ireland stores: 679
Number opened last year: There was a net increase of 13 stores in the UK & Ireland for the year ending 31 May 2019
Financials: The worldwide group made an operating loss of £30.2m in 2018/19, a steep decline from the £8.5m loss the year before.
What it says: Caffè Nero said it was optimistic about growth potential across the 11 markets in which it operates. In the UK, the group pointed to its "profitable" Harris + Hoole brand as a success story, and also named its acquisition of Coffee #1 as a highlight. Apart from bricks & mortar stores, Caffè Nero said there was also opportunity in "capsules and coffee at home".