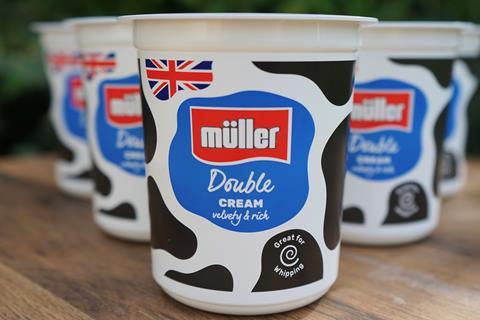 Dairy giant Müller UK & Ireland has announced plans to remove 500 tonnes of virgin plastic from its annual production of cream pots by switching to packaging made from recycled plastic.
The supplier said it had converted 75% of its cream volume to rPET pots, which are 100% recyclable and contain 82% recycled material.
The new rPET pots have been rolled out across Müller's 150ml and 300ml cream range in brand and private label products.
They have been supplied by packaging business Faerch while Müller is also developing packaging solutions for the remaining volume for 2023.
"It's clear that shoppers want great dairy products in packaging which preserves their quality, safety and shelf life whilst reducing environmental impact," said Liam McNamara, joint CEO at Müller Milk & Ingredients. "We are continually searching for innovative solutions to use significantly less virgin plastic."
"We have worked closely with the Müller team to ensure the product had the highest level of recycled content possible, whilst maintaining the overall performance of the packaging through the supply chain," added Mark Tollman, group strategic sales director at Faerch. "We look forward to working with the Müller team in creating solutions for the remaining volume."
Müller's fresh milk bottles have been 100% recyclable for many years and contain 30% recycled material. Additionally, the brand has got rid of coloured milk caps in partnership with Waitrose and Aldi to enable retention for reuse within the food sector.