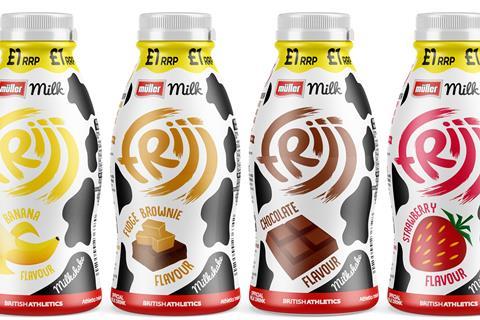 Müller Milk & Ingredients has revamped its Frijj dairy drinks brand with a new, fully recyclable bottle and a reformulated long-life ambient recipe.
The dairy giant said the move, which will give the drink a potential shelf-life of up to nine months, would allow it to make Frijj available across all channels. The new ­packaging will be made from 51% recycled content.
Frijj will also be manufactured by a third party for the first time, after Müller outsourced production to Refresco.
It follows a review of operations at its former home at the Severnside dairy in Gloucestershire early this year – part of Müller's Project Darwin cost-cutting plan.
The processor stressed the product would still be made from British milk and would continue to be supplied through its chilled supply chain and merchandised in chillers.
However, an additional opportunity for out-of-home sales would also be unlocked by allowing the product to be sold on ambient shelves.
Frijj would also continue to focus on its most popular flavours, Strawberry, Banana, Chocolate, Fudge Brownie and Cookie Dough, Müller said.
The changes set the Frijj brand up for success by offering "real benefits for consumers, customers and for our business", said Müller Milk & Ingredients CEO Jon Jenkins.
"We're seeing retailers unlocking more space in store for milk drinks, and with over half of the UK population yet to access and enjoy this category, there's a real opportunity for growth."