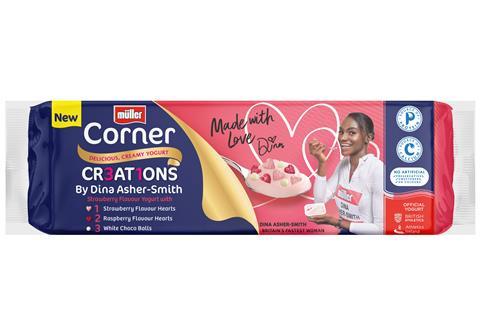 Müller has collaborated with brand ambassador and reigning world 200m champion Dina Asher-Smith to develop the sprinter's "perfect yoghurt".
Müller Corner Creations by Dina Asher-Smith will go on sale in a six-pack format in Asda and Morrisons from March. It contains a strawberry flavour yoghurt with three inclusions in the corner: a mixture of strawberry flavour hearts, raspberry flavour hearts and white choco balls.
The new yoghurt represented a continuation of Müller's strategy to add "further inspiration" to its core range of branded yoghurts as it targeted category growth, said Müller Yogurt & Desserts strategy and marketing director Michael Inpong.
It follows increased demand from consumers for the market-leading Corner range, with Müller citing a 5.6% increase in volume sales last year against a 1.3% increase in 2019 [Kantar 52 w/e 31 December 2020].
The launch will be supported by a multimillion-pound marketing campaign starring Asher-Smith, including a new TV ad – one of three to be broadcast this year starring the athlete – and social media activity.
"We are innovating on a unique and winning format, Müller Corner Creations was the best performing NPD in the market in 2019," Inpong said. "We are also seeing increased demand for Müller Corner, evidence that shoppers like the format, and continue to seek brands they love and trust.
"We think this product will really resonate with shoppers, and by driving excitement in the category with new and interesting flavour combinations, we can deliver further category growth," he added.
"The team at Müller wanted to take our partnership to the next level, and it seemed natural that the first step would be to design my own product and see it go to market," said Asher-Smith, who was called a "strong and positive role model" by Inpong.
"Within a few days we had a massive tasting session with the whole Müller Corner team, to try hundreds of possible combinations and flavours, to see which one I liked best. It was a really exciting project for me and I can't wait for everyone to try it."
It comes as Müller this week launched its first new TV ad to star Asher-Smith, titled 'Peel back & play', filmed by VCCP, which sees the runner promote the core Müller Corner range.