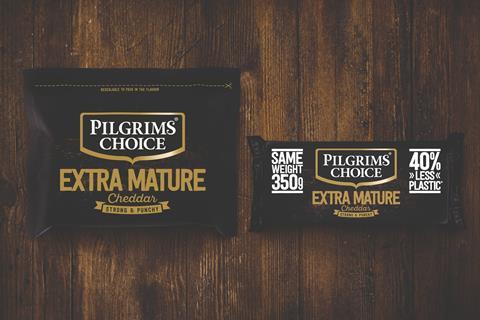 Ornua is to reinvent the cheese block and save more than 40% of plastic per pack of its Pilgrims Choice brand by changing its shape.
The dairy co-op said the move to a stubbier-shaped cheese, dubbed the Megablock, would deliver a projected reduction of 83 tonnes of plastic used in its cheese packaging each year.
Rolling into stores in late September, a new 350g block will measure 60mm x 140mm, with a depth of 40mm, compared with a conventional block shape of 90mm x 140mm with a depth of 26mm.
The greater depth of the new "oblong" block shape delivered the same weight but with a smaller surface area, said Ornua Foods UK marketing director Mike Harper. This allowed the supplier to be more efficient with its plastic use by reducing the amount of air surrounding the block and by ditching the zip used on packs, he added.
"It's also more ergonomically shaped and easier to handle when cutting, grating or slicing for the perfect sandwich," he said.
Pilgrims Choice is also introducing 300g and 550g Megablocks using the same dimensions, with the entire range to be delivered in shelf-ready packaging containing more packs per case. This would result in an additional 27-tonne reduction in cardboard used and a total reduction of 110 tonnes of packaging saved each year, with a reduction of 1,321 road miles and 1.75 tonnes of CO2, Harper said.
And in a further boost, Tesco will also adopt the new pack format for its own-label cheddar ranges supplied by Ornua, in a move that would save a further 95 tonnes of plastic as a part of the retailer's 4R (remove, reduce, reuse, recycle) packaging programme.
Ornua has also signed up to the TerraCycle recycling scheme as part of the packaging revamp, and is investing £3m in a marketing push to promote the changes, including a new TV ad to be launched in October.
"We set ourselves the challenge of creating a format that enabled us to pack the same amount of cheese, using less plastic, whilst improving the experience of consumers," said Harper.
"In short, we wanted a packaging solution that was 'Less Plastic More Fantastic' and we believe the Megablock delivers on this," he added. "We're on a mission to help the planet one block of cheese at a time, but we recognise the need to do more so we will be implementing further plastic reduction solutions across the Pilgrims Choice range in 2021."