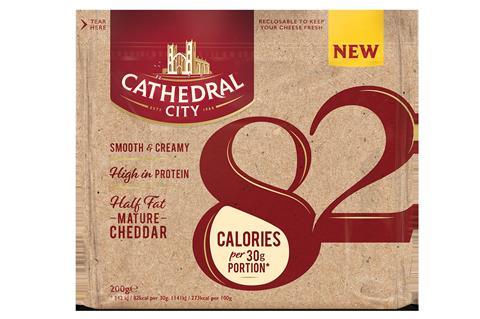 Saputo Dairy UK has withdrawn its low-calorie Cathedral City 82 variant due to a combination of relatively low sales, production complications and the impact of Covid-led range rationalisations.
Made with low-fat milk, and containing 82 calories per 30g portion, the cheddar was launched in Tesco by the dairy giant last June in a bid to "reframe" the health debate in cheese by shifting the focus away from 'reduced fat' towards a more permissible calorie messaging.
There remained a "clear opportunity" in the market for so-called healthier cheeses, Saputo suggested, with lighter cheddars seeing market share rise by two percentage points to 12% over the past year [Kantar 52 w/e 17 May 2020].
However, demand from buyers who were "tightly controlling their calorie intake" was relatively small, it added – despite the largely positive response for Cathedral City 82 – with sales of half-fat products accounting for less than 10% of lighter cheddar sales.
Although the variant had demonstrated category incrementality, both attracting new shoppers to Tesco cheese and growing spend among existing Tesco cheese shoppers, the product's relatively low demand had resulted in "undesirable levels of wastage" during the production process, Saputo said.
This was not in line with the processor's edible waste reduction commitments under the Wrap/IGD food waste roadmap, it added.
Retailer range rationalisation to help manage peak demand on core SKUs at the onset of lockdown also created "a highly challenging environment for relatively niche products such as Cathedral City 82 to maintain space in a high turnover fixture", it said.
"As such, while proven to answer to both a consumer and category need, we have taken the difficult decision to withdraw Cathedral City 82 from the market in the current climate," Saputo added.
"We are still committed to providing a balanced range of cheese variants, which includes our very popular cathedral City Lighter cheese, which has all the great Cathedral City flavour but with 30% less fat."
The last Cathedral City 82 products went off sale in Tesco in mid-June [Edge by Ascential].
The move follows the temporary withdrawal by Saputo of its Cathedral City extra mature variant last month due to "unprecedented" demand for the cheddar from locked-down Brits.