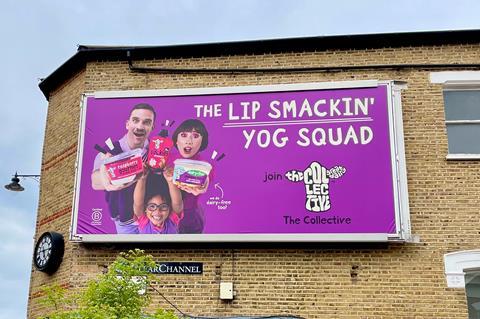 The Collective has launched a £2m marketing campaign to boost awareness of its brand, rather than specific product lines.
The premium yoghurt brand has in the past focused on individual sub-brands such as its children's range Suckies earlier this year. However, its new push will take a 'masterbrand' approach by focusing on all three of its ranges: Gourmet, Dairy Free and Kids.
The brand has already seen increased penetration from its wider marketing efforts, resulting in a rate of 10.2%, up from 8.4% this time last year, it said.
The campaign is covering 1,222 sites across the UK, boasting a reach of 19.4 million people.
"We have an amazing and diverse range of delicious dairy products," said Emma Gooden, head of marketing at The Collective.
"Historically we have focused our marketing on promoting different ranges at a time, but now under our new masterbrand approach we are going big and focusing on building the brand as a whole – showing that we have ridiculously tasty products for everyone, and are in a unique position as the only gourmet yoghurt brand that plays in adult, kids and dairy-free categories."
The brand said it will be doing bursts of activity throughout the year during key periods to drive awareness of the brand under a 'yog squad' theme.
It follows the relaunch of its children's Suckies pouchies earlier this year with a no added sugar range and packaging refresh.