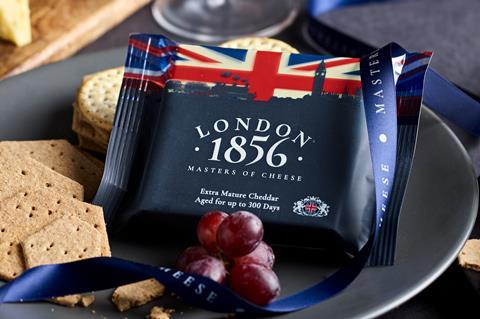 Wyke Farms is aiming to build on its successful export business with the launch of a global brand called London 1856.
The brand has been developed to exploit post-Brexit export opportunities outside Europe and will target the growing Asian market for cheese.
With packaging that Boasting plays heavily on British iconography, it was named after the date a train line opened between Wyke's base near Castle Cary in Somerset and London, which would ultimately become known as the milk train – because it carried milk, butter and cheese to market in London's Tooley Street.
Wyke has successfully been exporting cheddar to more than 160 countries over the past 20 years. But the move to launch a globally recognisable brand "formalised" its offering as part of its "Brexit proofing strategy", said MD Rich Clothier.
"This is the first brand that we have ever launched that is targeted purely at an export region. We are now ready with the right cheese, in the right place and at the right time."
Its flagship product is an extra mature cheddar, aged for 300 days. Other products include a mild, mature, vintage and Red Leicester in 200g, 500g and also in catering formats.