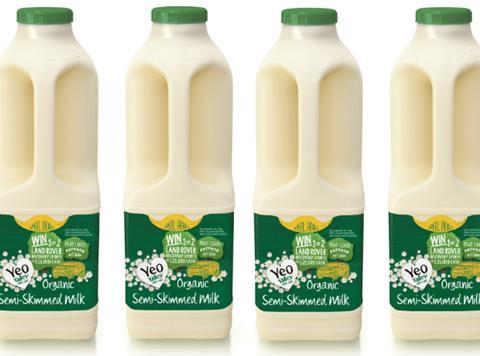 Organic dairy supplier Yeo Valley has signed a partnership with fresh milk distributor Freshways and organic dairy co-op Omsco to increase the brand's presence in the convenience channel.

The partnership will see an additional 10 million litres of branded Yeo Valley organic milk supplied to independent convenience retailers and coffee shops across the UK, and comes as sales of organic food and drink value sales increased 4% in the year to July [Nielsen Scantrack 52 w/e 1 July 2017].

Freshways began packing the milk on 27 November, with the partnership building on Yeo Valley's existing relationship with Omsco, which already supplies 95% of milk used in Yeo Valley branded products.

"This partnership demonstrates our willingness to bring innovative supply chain solutions to the organic market," said Yeo Valley executive chairman Adrian Carne.

"Yeo Valley already supplies Freshways with yoghurts but the addition of milk to the portfolio will increase the presence of organic dairy in the independent retail and foodservice sectors."

The tie-up forms part of a plan to develop Yeo Valley's presence in convenience, and in light of IGD predictions that the sector would increase 17.7% in value from 2017 to 2022.

"It will create value for the organic sector by leveraging the awareness and trust of the Yeo Valley brand in the independent retail and foodservice sectors. If successful there may be scope to include other products like butter and spreadable in the future," added Carne.

It follows last month's launch of The British Organic Dairy Company, a joint venture between Omsco and Wyke Farms created in a bid to become "the world's largest organic cheese supplier".