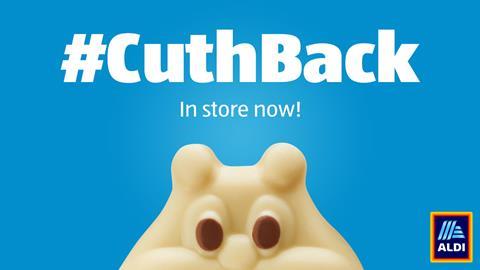 Aldi has been having a Twitter "party', and teasing M&S over the return of Cuthbert the Caterpillar cakes to the discounter's stores.
Using the hashtag #Cuthback, Aldi's social media team has been tweeting pictures of vans parked outside M&S stores bearing billboards with pictures of Cuthbert and messages such as "Aisle be back".
This is not just any parking space… #CuthBackpic.twitter.com/C8yd2DjXW5

— Aldi Stores UK (@AldiUK) June 1, 2022
The cake returned to Aldi stores on Monday (6 June) after the discounter reached an out of court agreement with M&S over an intellectual property rights dispute. It ended a High Court trademark infringement claim brought by M&S centring on similarities between Cuthbert and its own Colin the Caterpillar.
The party has officially started! #CuthBackpic.twitter.com/cJPCF0agku

— Aldi Stores UK (@AldiUK) June 6, 2022
Neither retailer commented on the terms of the agreement when it emerged in February, but M&S said: "The objective of the claim was to protect the IP in our Colin the Caterpillar cake and we are very pleased with the outcome."
In a long series of tweets about Cuthbert's "release party", another Aldi message shown parked outside an M&S store this week said: "Made by bakers, approved by lawyers."
"You can't park there Sir". pic.twitter.com/sz2jPEHAbW

— Aldi Stores UK (@AldiUK) June 1, 2022
When M&S announced its High Court claim in 2021, IP experts noted that, while other supermarkets made caterpillar cakes, Aldi's appeared to have more physical characteristics in common with Colin.
Aldi's Cuthbert has since gained a prominent bow tie.
Got super excited to go and buy a Cuthbert cake today @AldiUK Happy belated birthday to myself #CuthBack woohoo pic.twitter.com/OyJI291xzF

— Make-Up Princess (@tazzidevil63) June 5, 2022
A separate legal dispute between the two retailers centring on Aldi's Christmas gin liqueur, which M&S claims is a copy of its popular Light Up gin, is thought to be ongoing.