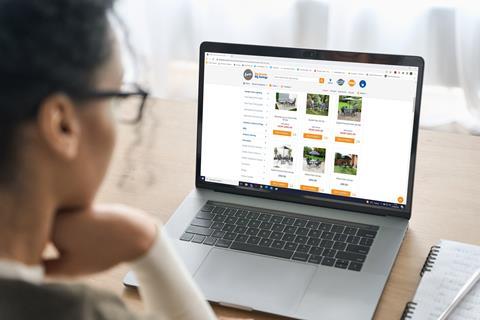 B&M has launched an online home delivery service, initially offering a range of bulkier general merchandise items which customers might struggle to transport themselves.
The online range consist of 1,000 lines, including garden and indoor furniture, electrical equipment and toys and games.
"We are incredibly excited to launch our online deliver-to-home service and make life easier for customers that love the range of discounted products from B&M but haven't been able to purchase from store," said B&M digital director Jens Sorensen.
"We're continually developing and improving the offering available to customers, and creating this more accessible shopping experience is a fantastic step forward for the business.
"It's been an incredibly exciting launch to work on and we're so happy that customers are now able to start using the transactional website and have access to products they wouldn't have been able to in the past."
B&M CEO Simon Arora outlined the online plans in his review of the business in its annual report, which he wrote on 30 May and was published today.
"The B&M website has not historically been transactional, instead acting as a footfall driver into stores and a channel through which to engage with an online community of customers," he said.
"All that remains true. However, at the time of writing an online home delivery service will shortly be launched on a limited range of items. This trial will ultimately extend across circa 1,000 SKUs representing in part bulkier or higher ticket general merchandise items, which customers cannot always easily transport home from stores themselves, or products that do not require disproportionate mail order packaging.
"Given the disruptive B&M price position, the business believes this could prove an attractive proposition for customers."
Arora said the business was "open minded as to the long-term potential of the trial, and a 'test and learn' approach will be adopted over the coming months as customer response is closely monitored".
He said B&M's network of five distribution centres were sufficient to service sales volumes and "as such no large-scale capital investment in additional capacity is anticipated in the near term".
The categories covered by B&M's online delivery service are highlighted by a van symbol on its website.
Delivery takes three to five working days, according to the site, with a shipping charge starting from £3.95.
Rival variety discounter Home Bargains already offers a wide range of products for scheduled home delivery, including ambient food and fmcg.
Poundland recently began offering thousands of products including ambient food for delivery nationwide for the first time, via Poundshop.com, which it acquired earlier this year.
B&M's plans for an imminent home delivery trial were also noted in its recently published full-year results to 26 March, in which it said there was potential to extend the online range in the longer-term, subject to assessment.
Arora also commented on B&M's estate growth in today's annual report, saying its long-term target of 950 stores, up from a current 701, was looking increasingly like a "conservative estimate" given sales densities over the past two years.
"The B&M UK business expects to open approximately 40 gross new stores in full-year 2023 and the recently lifted moratorium on tenant evictions should support the current pipeline of opportunities," he said.