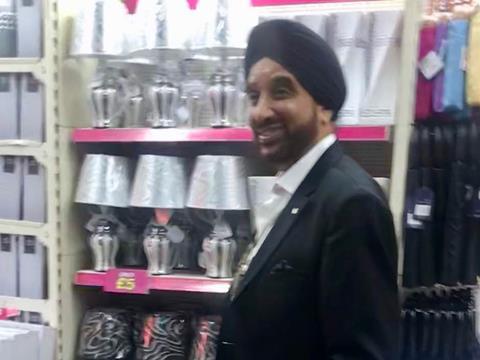 The businessman believed to be behind Five Pound World, Dev Singh, was jailed for three years after cheating the taxman out of £500k, The Grocer can reveal.

Three Five Pound World branches have opened since the beginning of October, in Burton-on-Trent, Derby and north London's Walthamstow. The branches stock homewares and general merchandise, with everything priced £5. The chain was understood to be aiming for 150 stores but the status of these plans is unclear after the senior management team left earlier this month.

Until now, little has been known about Singh, whose real name is Gurkirpal Singh Bance. A LinkedIn page under the name Dev Singh claims he is the MD of Opium Group, a business describing itself on its website as trading in 'various sectors all over the world'. But he has operated as a businessman using a number of different names.
At the time of his conviction for tax fraud in 2016 he was using the name Dave Bance. Then aged 54, he had built up a business empire called The Bance Group, which he claimed was worth over £80m and included an airline.

But an HMRC investigation found the majority of his companies were not registered for VAT, or that he had paid minimal sums to avoid detection. The investigation also found he had attempted to hide some of his income by transferring funds to an offshore company based in the British Virgin Isles.

The investigation revealed he had failed to register for VAT payments on two bars in London but still charged customers VAT and pocketed the extra money. Bance used the previous owner's VAT number to charge customers at The Beauchamp Bar in Knightsbridge and The Cuban Bar in the City.
He kept up the scam for nearly five years at The Beauchamp Bar and three at The Cuban Bar, in both cases up to 2013.

He was convicted in May 2016 of cheating the public revenue by failing to account for VAT payments at the bars, and sentenced to three years in jail a month later on 14 June.

Bance had also claimed to be a friend of Michael Jackson.
Five people, including former Five Pound World staff, have identified the businessman behind the venture as Bance.

Bance has not responded to our requests for comment. Lawyers for All in Five Ltd, the business's registered company name, said Bance is not and has not been a director or shareholder of All in Five and does not have a financial share in the company. They said the senior management team was made redundant. All in Five is yet to respond to further requests for comment on Bance's role in the company.

'Gurkirpal Bance' is listed on Companies House as a former director of a firm called Lordridge Limited, an appointment he held from August 2012 until November 2017.

Lordridge's current director, who was appointed on the day Bance left, is also listed as a director of All in Five Ltd, which has its registered office address as that of Five Pound World's Walthamstow branch.