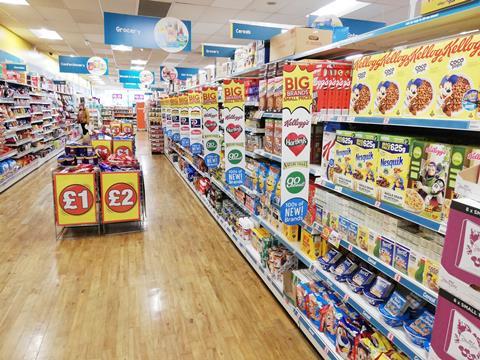 Poundland is targeting the top-up grocery shop and bigger basket spend as it transforms into a multi-price discounter, the company's transformation director has said.
Mat Ankers said new price points had allowed Poundland to introduce enough new lines to cater for the "top-up convenience" mission.
A rollout of new price points to all of Poundland's 850 stores is set to be completed by the middle of this week. It adds £3, £4 and £10 to the existing price points of £1, £2 and £5. Poundland has used the exercise to expand health & beauty, household and grocery ranges, adding more brands and bigger pack sizes.
"People are shopping in very different ways than they did before," Ankers said as he explained the strategy. "What you're seeing is people are not doing their weekly shop. What they might be doing is stocking up every couple of weeks and then in the meantime doing top-up convenience shops. We want to be the right offer for that mission."
He added: "What we know is that we are not a weekly shop. We are a top-up shop and the [new] price points were about opening up the breadth of offer."
Part of the goal was to increase basket spend from Poundland's core customer, a mum with kids, said Ankers. "Typically our average basket value is £5 which in the market is relatively low and what we want to do is offer more to grow that."
High street stores near offices could also attract the top-up shop from workers on their way home, he said. "What we see is after work, you've not got something in the house, so you come into our store. It's about having what they need and if they come in we can meet that need.
"What I'm confident of now is that on health and beauty, household and grocery, on all of those categories you could come here and shop what you need. We now offer the right things, be it brand or pack size or variety."
Ankers spoke as journalists were shown round a new store which opened on Edinburgh's Princes Street at the weekend. The event was staged in response to an article in The Scottish Times headlined "Poundland threatens to cheapen Princes Street".
"I think perhaps what people might think versus what we actually do is very different," Ankers said.
The multi-price model had been tweaked since it was launched as a trial in August. A massive expansion of fmcg and grocery lines in the pilot had been scaled back slightly to focus on what sold best.
"Where a line works, we'll go with that. If you don't need one, we'll go with two," said Ankers. "Is that the best-selling line and does it fulfil the customer mission? Then you don't need anymore."
Shelf edges had also been changed from Poundand's signature green to white. Ankers said customer research found it reduced confusion over the new price points.
"From the basic perspective, we've changed the stripping. We've trialled loads of different colours and landed on white," he said.
"Customers were asked whether the pricing was clear and what we found was that it was clearer when there was no colour.
"What we're very focused on is making sure that people absolutely understand what they're going to pay."