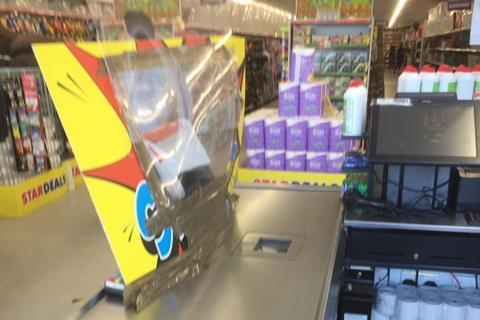 Managers were told to take supplies for staff from stock destined for sale

One store manager recieved 16 pairs of gloves and five face shields between 13 staff members
Poundstretcher has been slammed by staff over a lack of provisions to protect them from coronavirus, including hand sanitiser.

Managers had been told to take supplies for staff from stock destined for sale, but panic buying in the lead-up to lockdown meant some stores had sold out, according to an area manager.

Some have had no hand sanitiser in stock since February according to the source. Instead staff have relied on handwash - which has also run out in some stores, the source said.
The company has also not provided checkout screens, instead issuing instructions for stores to make them using equipment such as old gondola ends.
"We're heading for the peak of coronavirus and the company has done little to nothing to protect employees," the area manager said.
"At times, because of customer demand, stores have run out of handwash. For the first two weeks [of lockdown] we had stores without toilet paper or handwash."
A store manager said: "I ran out of hand sanitiser in the first week of March and haven't received any since. I did the social distancing floor markings with hazard tape I went out and bought myself."
The store manager said the branch had also been without protective gloves until 17 April, when a box of 16 pairs arrived, along with five face shields, between 13 staff members.
Poundstretcher has faced enquiries from local authorities about the measures, following complaints from customers.
A Poundstretcher spokeswoman said hand sanitiser was being provided to stores for staff use, having arrived at its distribution centre in Kirby Muxloe in the week beginning 12 April - the fourth week of lockdown. Stores had been supplied with face shields and masks, which arrived at the DC in the week beginning 5 April, she said.

She said all stores had handwash and sinks with hot water and soap, and had also been provided with gloves.

Social distancing measures including floor markings and customer notices were in place in all stores and area managers carried spare stocks of floor tape, she said. A wide range of control measures had been communicated and implemented in all stores as part of essential Covid-19 trading instructions.

She added: "A number of local authorities have been in touch with us and confirmed that they are satisfied with the control measures we have in place."

The area manager also criticised the company for only offering ill staff statutory sick pay of £95.85 a week.

"Some managers don't self-isolate because they can't afford to pay their bills," the source said.

"Not only this, they're not sticking to essential travel only. Field teams at other retailers are working from home. In our company, the area managers, the auditors, everybody who works in the field, is just travelling between stores, risking spreading the virus."