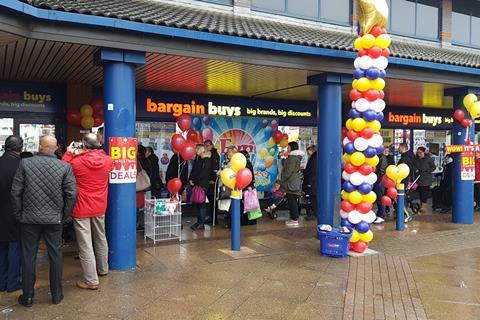 Poundstretcher has succeeded in trademarking the 'Bargain Buys' name that previously belonged to defunct rival discount chain Poundworld.

Poundstretcher had opened 59 stores under the banner since last September, but only on Friday last week received notification from the Intellectual Property Office that the trademark had been granted.

Meanwhile, a similar trademark bid from a Leeds businessman who bought the Bargain Buys name from Poundworld's administrators has been refused by the IPO.

Manni Hussain's company's application, filed in October last year, around the time he bought the name from Deloitte, was simply for 'Bargain Buys'. Poundstretcher's, filed a month later, was for the phrase 'Bargain Buys big brands, big discounts'.

It's understood the reason Poundworld had not trademarked the name before last October was that 'Bargain Buys' alone was deemed too generic.

Poundworld's estate of 335 stores included around 20 Bargain Buys when the retailer collapsed into administration in June last year. The chain was created by Poundworld founder Chris Edwards and consisted of around 50 stores when he sold the business to TPG Capital in 2015.
Hussain is chairman of the commercial property firm 88M Group and director of New Money Ltd, the company behind the rejected trademark application. He had planned to open 50 Bargain Buys stores this year as well as another 200 under the Poundworld banner, which he also bought from Deloitte. He has not responded to The Grocer's latest enquiries but appears to be on course to bring Poundworld back to the high street. He recently wrote on LinkedIn 'Coming soon', with a picture of Poundworld's logo and the message 'Relaunch of a consumer favourite'.

Poundstretcher had been looking for a new name to shed associations with single-priced pound shops when it moved into a store vacated by Bargain Buys in September and left the sign over the door. On top of the 59 opened so far, the retailer plans to open a further 60 under the banner this year.

"It's a relief but we were always confident we were doing the right thing," Poundstretcher's group commercial director, Somnath Saha, said of the IPO's trademark decision.

The Leicester-based business plans to grow its estate from around 450 to 800 stores by 2022, using the Bargain Buys name to more clearly differentiate itself as a multi-price discounter.

Saha said the rebranding had contributed to a 10% year-on-year increase in footfall across the estate in January and February.