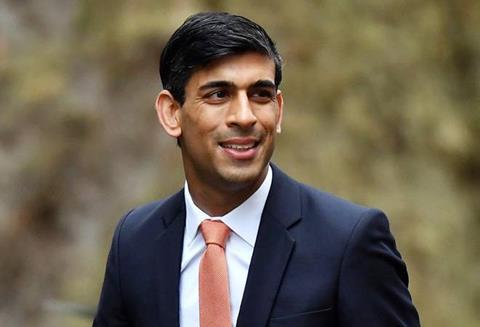 Top story
The Chancellor Rishi Sunak has announced a revamp of the government's emergency loan measures to struggling SMEs by relaxing the criteria for eligible businesses and raising the limit on the size of companies that can apply.
The Treasury said more than more than £90m of loans to nearly 1,000 small and medium sized firms have been approved under the government's Coronavirus Business Interruption Loan Scheme since its launch last week.
However, the Chancellor will now extend the CBILS programme to all viable small businesses affected by COVID-19, and not just those unable to secure regular commercial financing.
It has also raised the limit of companies that can apply for the loans and the amount that it will underwrite.
As of today, the government will provide a guarantee of 80% to enable banks to make loans of up to £25m to firms with an annual turnover of between £45m and £500m.
Previously the limit on eligible firms was a turnover of £45m and the maximum loan was £5m.
The government will continue to cover the first twelve months of interest and fees.
For loans over £250,000, personal guarantees will now be limited to 20% of any amount outstanding on the CBILS lending after any other recoveries from business assets.
Lenders were already prohibited from asking business owners to put their house on the line, but the Treasury said today's changes "will provide further reassurance regarding personal assets during this difficult time".
Chancellor of the Exchequer, Rishi Sunak MP, said: "We are making great progress on getting much-needed support out to businesses to help manage their cashflows during this difficult time – with millions of pounds of loans and finance being provided to hundreds of firms across the country.
"And now I am taking further action by extending our generous loan scheme so even more businesses can benefit. We have also listened to the concerns of some larger businesses affected by COVID-19 and are announcing new support so they can benefit too.
"This is a national effort and we'll continue to work with the financial services sector to ensure that the £330bn of government support, through loans and guarantees, reaches as many businesses in need as possible."
The Chancellor will be speaking to bank chief executives next week to discuss how the schemes are working and "ensure everybody is playing their part".
The Treasury said there have now been over 130,000 enquiries from businesses across the country for business interruption loans, though only 983 businesses have had finance approved as banks continue to process thousands of loan applications.
Meanwhile, a government-backed scheme to provide financing to larger companies, being operated by the Bank of England, has also provided almost £1.9bn of support to firms and a further £1.6bn has been committed.
Morning update
Associated British Foods (ABF) has announced its leadership team have agreed to take temporary pay cuts during the coronavirus crisis.
CEO George Weston and finance director John Bason have requested that their base pay be reduced temporarily by 50%.
Additionally, bonuses relating to the current financial year will not be paid to the executive directors.
Paul Marchant, chief executive of Primark, has also requested that his base pay be reduced temporarily by 50%.
The non-executive directors of the ABF board, including the chairman Michael McLintock, have decided that their fees should be reduced temporarily by 25%.
ABF stated: "The board, including the executive management team, believes that these steps are appropriate given its expectation that full year earnings will now be much lower than envisaged at the start of the financial year.
"The board is acutely aware that many Primark employees will see their livelihoods affected by Covid-19."
ABF restated that it has not seen a material impact in its sugar, grocery, ingredients and agriculture businesses as a result of the outbreak.
Measures to reduce the operating costs at Primark continue to be developed and implemented.
It stressed that it continues to benefit from a strong balance sheet and, at close of business last night, has some £1.7bn of cash in reserve.
On the markets this moring, the FTSE 100 is down 1% to 5,427.7pts so far this morning.
Fallers so far this morning include SSP Group (SSPG), down a further 6.2% to 253.4p, Glanbia (GLB), down 2.8% to €8.30, DS Smth (SMDS), down 2.6% to 254.6p, Associated British Foods, down 2.4% to 1684.5p and Ocado (OCDO), down 2.3% to 1,305p.
Early risers include Stock Spirits (STCK), up 3.4% to 144.8p, WH Smith (SMWH), up 3.2% to 1,016p, Bakkavor (BAKK), up 2.1% to 81.3p and Pets at Home, up 1.9% to 242p.
Yesterday in the City
The FTSE 100 ended the day up 0.5% to 5,480.2pts yesterday.
The tobacco companies were again amongst the major FTSE 100 risers, with British American Tobacco (BATS) up 3.1% to 2,946p and Imperial Brands (IMB) up 2.6% to 1,569.5p.
Other risers yesterday included Applegreen (APGN), up 10% to 220p, Total Produce (TOT), up 7.3% to 80.5p, Premier Foods (PFD), up 6.1% to 25p, Eagle Eye Solutions, up 3.3% to 149.5p and C&C Group (CCR), up 2.4% t 194p.
Bakkavor plunged 19.3% back to 79.6p yesterday after admitting the coronavirus had caused "significant operational challenges" and a fall in demand for key products.
Also falling yesterday were Stock Spirits Group (STCK), down 6.7% to 140p, SSP Group (SSPG), down 6.3% to 270p, Kerry Group (KYGA), down 6.2% to €95.75, Marston's (MARS), down 6.1% to 36.1p, Glanbia (GLB), down 6.1% to €8.54, Compass Group (CPG), down 5.3% to 1,100p, Hilton Food Group (HFG), down 4.4% to 975p, Greggs (GRG), down 4% to 1,503p and Sainsbury's (SBRY), down 3.9% t 204.8p.