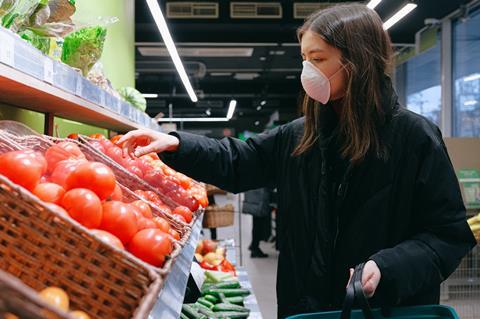 The highest food price inflation for eight years helped drive sales growth in the UK grocery industry back up again last month, data shows.
Kantar found British take-home grocery sales surged by 18.9% over the four weeks to 14 June, an increase on the 17.2% recorded in the previous four-week period.
While the monthly sales uplift remains below the 20.6% four-week jump recorded in March, food price inflation appears to have surged since the start of the lockdown period.
In March, Kantar recorded grocery inflation of 0.9%, but this has risen to 4% in the most recent 12-week period – its highest level since June 2012.
Kantar said prices had risen fastest in categories such as bacon, sausages and cooked meats, while falling in other key staples such as poultry, bread and eggs.
Kantar's head of retail and consumer insight Fraser McKevitt suggested a reduction in promos – and multibuys in particular, which are down 17% – was an underlying driver behind the overall rise, as well as shoppers spending less time searching for deals – behaviour exacerbated by the shift to online and convenience.
Kantar's inflation read is much higher than the 1.5% food price inflation reported by the BRC and the 1.6% recorded by the Grocer Price Index, both in May, as it's based on actual sales.
Over the 12 weeks, grocery sales grew 13.7%. Of the big four, Tesco grew the most over that timeframe, with sales up 12.1%. Three of the big four grew faster than Aldi's 8%, with only Asda's 6.4% sales growth below that level.
Overall growth figures were boosted by online, which was up 91% over the previous four weeks as availability of delivery slots increased allowing nearly one in five British households to shop online.
Ocado was the fastest growing grocery retailer with 12-week sales up 42.2%. However, its online share has fallen, with rivals experiencing a 110% analyst Jefferies noted.
"The store-pick model is showing its attractions, with limited capex requirements and extreme flexibility," the broker said.
Households made 77 million fewer trips to the grocers in the latest four weeks compared with last year, but still 19 million more than in May, reflecting the slight easing of government restrictions.
New data from the BRC-ShopperTrak footfall monitor this week for the week to 21 June – the first week non-essential shops were allowed to reopen following the coronavirus lockdown – showed footfall was down 57.2% year on year.
However, this represented an improvement against the previous week, when it was down 76.2% annually.