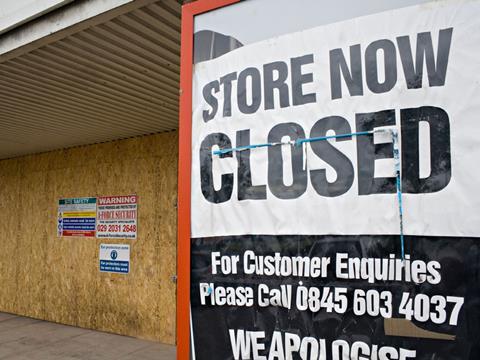 Retailers across the UK have experienced another year of "dire" Christmas trading, with almost 25,000 on the verge of collapsing in the new year, according to new research by insolvency firm Begbies Traynor.
Food retailers are among those hit hardest, with an 11% increase in 'significant' financial distress from 3,819 businesses last year to 4,226 this quarter thanks to the ongoing supermarket price war and families leaving their big Christmas shop to the last minute.
The research, which tracked levels of corporate distress among UK businesses between 1 October and 17 December, added that 24,737 retailers across the country were now suffering 'significant' financial distress after another challenging festive trading period for the British high street, with hopes now pinned on "desperate shoppers" who have left it too late for online deliveries.
Begbies said the figures, which are marginally up compared with the same period last year (24,251), were even more concerning given today's low inflationary environment and rising disposable incomes across the country. The firm added that the research indicated that retailers' drastic discounting over the past month has failed to draw in the crowds.
"This year there has been more discounting than ever before from retailers in the run up to Christmas, as Black Friday deals extended into more severe festive promotions to try and boost lacklustre sales volumes," Begbies partner Julie Palmer said.
"Unfortunately the swathes of cut price deals seem to have had little effect, with levels of financial distress among retailers even higher than last year's shocking statistics.
"However with most of the UK's parcels carriers still working through backlogs from earlier in the month and many consumers still haunted by last year's delivery disappointments following the administration of City Link on Christmas Eve, we expect to see a late surge of shoppers hitting the streets this week to get their hands on some last-minute bargains before the big day."