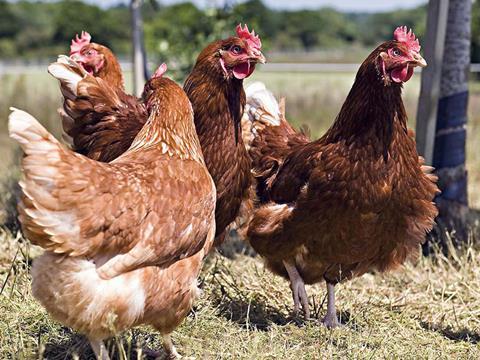 The National Farmers Union has warned that clarity is needed on free-range labelling if poultry housing restrictions continue due to the outbreak of avian flu.

A national protection zone limiting bird movement, poultry shows and gatherings was declared on 6 December, and will stay in place until 28 February.

However, under EU rules, only poultry products housed for fewer than 12 weeks can be marketed as free-range. After that point the product must be labelled barn. The 12-week mark for the housing restrictions will be reached on 28 February.

"We need to come to a solution because of the logistical challenges that are involved with changing everything to barn come the first of March," said NFU chief food chain adviser Ruth Mason.

The labelling standards affect everything that uses free-range products, including eggs, meat and mayonnaise. One retailer said this could mean thousands of products were affected, said Mason.

"We'd like to see an extension at European level to continue to call the products free-range, but equally we want to ensure we're being transparent with customers about what's happening and why that is," she added. "We're proposing to Defra and the European Commission that we put up labels in stores and over-label stickers on packs to make it very clear what's happening and why that's happened."

The H5N8 avian influenza strain first hit the UK in December, and has since been found in poultry in Lancashire, Lincolnshire, Carmarthenshire and North Yorkshire.

The most recent case was found in a flock of approximately 10,000 pheasants at a farm in Wyre, Lancashire this week. Defra confirmed that some of the flock had died, and the rest were humanely culled following the outbreak. A 3km protection zone and a 10km surveillance zone have been put in place to limit the risk of the disease spreading.

A full investigation to determine the source of the infection is underway, according to the UK's chief veterinary officer.