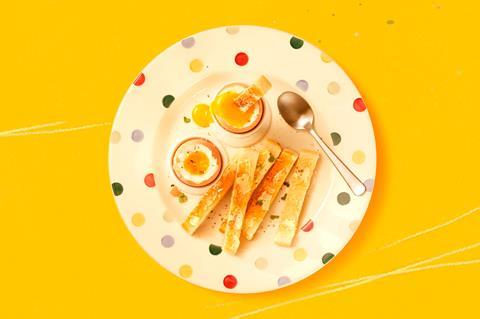 Noble Foods brand the Happy Egg Co has returned to TV screens for the first time in three years with a £1m vitamin D-themed campaign.
Launched on 29 January, the 'Stay sunny' animated ads are partnered with ITV's popular breakfast programmes Good Morning Britain and Lorraine.

The 10-second-long executions will talk up the health credentials of eggs, encouraging consumers to view them as a more reliable source of vitamin D than the British weather.
"Between October and early April, people in the UK do not absorb enough Vitamin D from sunlight, so it is important to ensure people are getting this from another source of goodness," said Noble Foods marketing controller, Matt Davis, quoting from NHS literature.
"Shoppers want to make the best choices for their families and by keeping The Happy Eggs Co. front of mind this winter season, we can encourage them to trade up from the eggs they usually buy to gain the benefit of additional vitamin D."
The Happy Egg Co. said it would support its 10-week campaign with in-store activity.
The campaign will put a sunnier disposition on the egg industry, which has come under scrutiny this week after an animal rights group stormed an East Sussex egg farm and "liberated" 50 hens on Monday (27 January).
Direct Action Everywhere published undercover footage alleging to show wrongdoing at branded egg supplier Hoads Farm near Hastings, accusations the firm questioned the "validity and integrity" of.