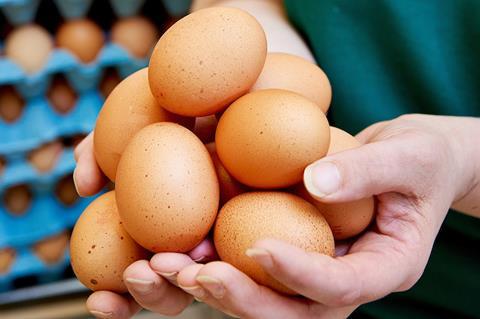 Morrisons has beaten Sainsbury's to the punch by becoming the first of the big four to sell only free-range eggs.

Sainsbury's committed last year to switch to 100% free-range eggs in 2020. However, it currently has two barn egg SKUs on sale. Waitrose, M&S and the Co-op already offer shoppers a 100% free-range proposition.

Morrisons' move follows a commitment to ditch the use of eggs from cages across all foods by 2025 and shell eggs by 2022, after a campaign by teenager Lucy Gavaghan in 2016.

The commitment was made possible after Morrisons doubled the number of free-range farmers that supply its egg packing business.

It will mean all Morrisons eggs will come from hens that have outdoor access for at least eight hours each day, as well as nest boxes with wide perches and spaces for scratching and dust bathing.

The retailer said it would continue to work on ensuring 100% of eggs used as ingredients in products were from free range eggs by 2025. It is also dropping the price of a pack of six free range eggs from 80p to 75p to make them more affordable.

"Improving animal welfare is very important to customers and it's very important to us," said Morrisons egg buyer Robert Hofmann.

"Momentum on ending the use of cages for laying hens is growing and Morrisons is leading the way," said Tracey Jones, director of food business at Compassion in World Farming.

It follows the introduction of a Pick Your Own Eggs service by Morrisons in 2018 which enabled shoppers to choose and pack their own free-range eggs in recycled boxes - choosing from one single egg to a tray of 30.