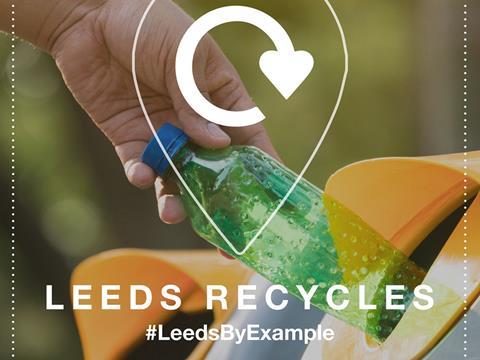 Food and drink industry giants have combined to back a new recycling trial in Leeds, as companies step up efforts to tackle plastic pollution.

A raft of retailers and suppliers, including Coca-Cola, the Co-op, Danone, Highland Spring, Innocent, Lucozade Ribena Suntory, Marks & Spencer, Morrisons and PepsiCo, are involved in the trial aimed at boosting recycling of food packaging disposed of on the go.

#LeedsByExample will see new recycling facilities introduced on the streets, in offices, shopping centres, universities and transport hubs in the city.

It will include the first UK trial of an app developed by OPRL, which will use on-pack barcodes to help consumers understand what and how to recycle, with a map to find their nearest recycling points.
The scheme is being co-ordinated by environmental charity Hubbub and recycling compliance scheme Ecosurety and will be piloted in Leeds city centre for six months from 8 September in conjunction with Leeds City Council.

The results of the trial will be shared openly, with the goal of national rollout of the most successful elements.

"We know that the public want to do the right thing and recycle as much as they can but are often confused as to how to do this or simply don't have access to the recycling facilities they need while they're out and about," said Gavin Ellis, director and co-founder of Hubbub.

"It's fantastic to have the backing of this broad group of businesses to help make this possible. There is also an important role to play for local businesses. We'll be providing subsidised recycling bins, communications support and advice and would love to hear from any Leeds businesses interested in getting involved."