Watch the Factory Manager of the Year 2020
The winner of The Grocer Gold Factory Manager of the Year 2020 has been announced.
Arla Aylesbury site director Jo Taylor has been named as the very first winner of the award at The Grocer Gold Awards 2020.
Taylor made the challenges of this year "look easy", according to Arla VP of supply chain Alison Rance, who nominated her.
Lockdown prompted a huge surge in demand for milk, and despite Taylor already running a 24/7 operation, she managed to crank up output by 20%, achieving a site record run rate of 1.3 billion litres per year.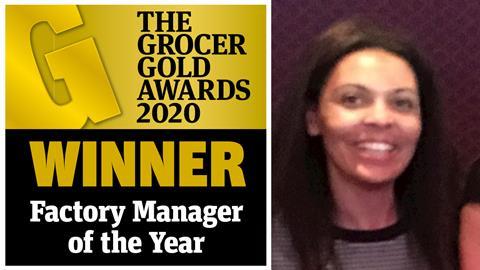 Aylesbury is consistently one of the top-performing sites for Arla across safety, productivity and efficiency but, thanks to Taylor, it has also been recognised as a place where new talent is spotted and developed for the benefit of the wider group. She has helped two of her team members go on to become directors at other Arla sites.
"Jo is committed to performance and people management," said Arla Foods group VP Michiel de Jonge.
"She has excelled during the Covid period. She's managed to keep her team safe and at the same time, increase productivity and engagement from the workforce."
The huge boost to output and change in circumstances didn't deter Taylor from giving staff everything they needed to do their jobs to the best of their ability, and she often delivered meetings up to 11 times so that everyone could have a chance to attend within social distancing guidelines.
This approach to health and safety paid off – there were no site-driven Covid-19 outbreaks despite continuous operation throughout the year.
Taylor said receiving the award "makes it all worth it".
"It may have looked easy but it definitely wasn't. This has been a really tough year but my team stepped up and we delivered. The team that I built around me just came to the front when it was needed."
Taylor also received praise for her people skills, which saw her arrange extended leave for eastern European staff members who were concerned for their loved ones and wanted to return home.
Despite the pressures this created for Taylor in maintaining productivity, she worked to make it happen and always prioritised the wellbeing of her colleagues.
"Jo rightly deserves this this award." said Rod Addy, editor of Food Manufacture.
"She's a leader that doesn't put herself first, she empowers others and gives them a voice, builds them up and presents a succession plan for the future of the business."
Editor of The Grocer Adam Leyland said: "There has not been enough attention or praise for the hard work, bravery and selfless sense of duty from factory workers."
"The Factory Manager of the Year has been the most awe-inspiring competition to watch and to judge".
The Golden Week
Every day this week on thegrocer.co.uk at 3pm we'll be announcing the winners of The Grocer Gold Awards.
Tuesday 10 November: Factory Manager of the Year
Wednesday 11 November: Business Initiative of the Year
Thursday 12 November: The Grocer Cup
Friday 13 November: The Grand Finale announcement of all the winners