The award for Britain's Favourite Supermarket is decided by the nation's shoppers. The Nielsen Attitudes to Retailers survey asked 6,642 households to choose their top three supermarkets from a predefined list of multiple grocery retailers based on 10 weighted criteria. Among the latest tweaks to the methodology is a new rating that assesses retailers on a location-neutral basis to remove any bias based on coverage and a wider read of social responsibility and environmental sourcing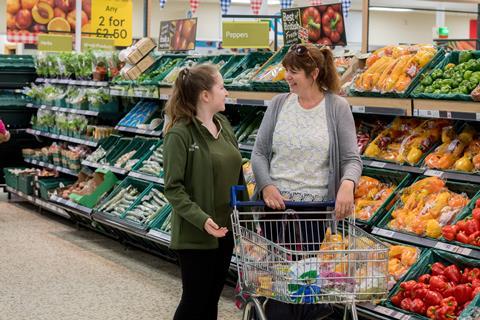 Winner: Tesco
Tesco has done it again. For yet another year, the UK's largest supermarket has emerged as Britain's favourite.
In The Grocer's survey of 7,004 households with NielsenIQ, 66% said they would definitely go to Tesco for their groceries. That was 12 percentage points higher than its nearest rival in the big four.
Out of 11 key attributes that shoppers were asked to select their preference for (each of which was then weighted), Tesco was ranked first for eight, including for a 'good overall shopping experience' – the most important factor in store choice.
However, in a year that saw online grocery become even more important, Tesco took the crown here too. This year, 19% of respondents rated Tesco the best online retailer, up from 16% the year before.
Tesco also came out top for its promotions and offers, good use of technology, strong availability and providing shoppers with convenient ways to shop.
Tesco even won on 'good environmental practices' – a new attribute added to Nielsen's methodology for this year.
It reflects a growing priority for Tesco, which has upped its efforts to combat food waste, plastic packaging and carbon emissions. Earlier this year, CEO Ken Murphy set a target to grow sales of plant-based meat alternatives by 300% by 2025.
If successful, these initiatives could cement Tesco as Britain's favourite supermarket for years to come.
Shortlisted:
Aldi
Amazon
Asda
Co-op
Iceland
Lidl
Marks & Spencer
Morrisons
Ocado
Sainsbury's
Waitrose