A wide range of initiatives were entered for this award, from partnerships to drive awareness of industry issues and brands to encouraging healthier eating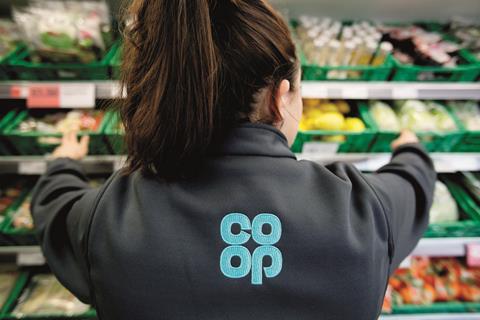 Winner: Co-op - Fighting Food Poverty During a Pandemic 2020
As donations to food banks fell during the pandemic last year, Co-op set out to raise awareness, provide food security for students in Co-op Academy Trust schools, donate funds and food, and raise money.
It first provided gift cards to every child at each of the 25 Co-op Academy Trust schools in deprived areas of the UK, where an average of 32% of pupils qualify for free school meals.
In April 2020, Co-op donated £1.5m of food to FareShare, and delivered to 23 regional FareShare distribution centres for food banks across the UK.
The retailer also launched a three-part TV campaign. The first part used Co-op colleagues to encourage customers to donate money. The second featured footballer Marcus Rashford. The third asked 'What's for Tea?', pointing out that sometimes it's not a case of what's for tea, but of whether there's anything at all to eat.
Shortlisted:
Bestway Wholesale - The Bestway Good Food Wholesale Initiative
Bestway set out to ensure pricing, promotion, merchandising and availability worked together to encourage healthier eating.
Focusing on independent c-stores, it identified 100 healthier versions of popular lines across key categories – including staples such as bread, breakfast cereal and soft drinks. It also increased focus on healthier brands like Alpro and Graze.
Buyers Discovery Club - The Buyers Discovery Club
Buyers Discovery Club launched in 2020 to help buyers find new and disruptive brands.
It holds a brief call with each buyer to find out what they're looking for, before finding brands that could add value to the retailer. Regular bundles are sent out, containing exciting products buyers are unlikely to have seen before. The club is now working with many major retailers, including Tesco, Sainsbury's and Asda.
Central England Co-operative - Anti-violence campaign
The Anti-Crime and Violence in Retail Initiative launched in 2019 to tackle violent incidents in stores. It also set out to lobby government to provide a deterrent to would-be criminals.
It includes 'Offender to Rehab', a scheme to transform offenders' lives while also reducing crime in communities. It has also worked with police to fund a drug and rehabilitation programme for prolific shoplifters.
Company Shop Group - The Luminary Programme
The Luminary Programme is a mentoring scheme for industry leaders looking to reduce waste.
Launched in 2020, it encourages businesses to share ideas about waste reduction and identify cultural barriers to reducing waste. Participants include Amazon, Coca-Cola, Greencore, Morrisons, Nestlé and Unilever. Their senior teams work with the programme to identify rising stars who can drive change.