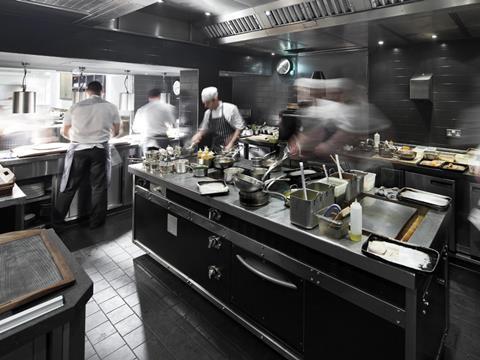 If supermarkets are the wizened generals ordering attacks amid a bloody price war, brands are the unlucky privates caught in the crossfire.

Household names have disappeared from supermarkets overnight. Furious spats over costs have spilled into the public arena. No-one is safe. A survey of Britain's Biggest Brands showed prices were brutally slashed for 49% of these mega power players in 2016, while two-thirds (62%) lost value, as growth at the big four continued to stall.

But far from accepting defeat, some have sought a battlefield where the odds look more favourable. Worth an estimated £87.9bn, according to MCA Insight, the sprawling foodservice market - encompassing everything from school dinners, to in-flight meals, sandwiches on the go and high street coffee - is holding an increasing allure for suppliers that once lavished all their attentions on the supermarkets.

Only last month the new 'distinguished' Schweppes 1783 range rolled out SKUs exclusively into the on-trade. It followed the launch by brand owner Coca-Cola European Partners of Honest Tea into Caffè Nero and other foodservice outlets in 2016, an acknowledgement of the power and reach high street coffee outlets.

A fortnight later Arla Foods announced the launch of its new foodservice division, bringing together the likes of Lurpak, Anchor and Castello alongside a new targeted back-of-house range, which will go live in 2018.

And there are countless more examples, from Pieminister's move into UK university canteens to Cawston Press launching in EAT restaurants.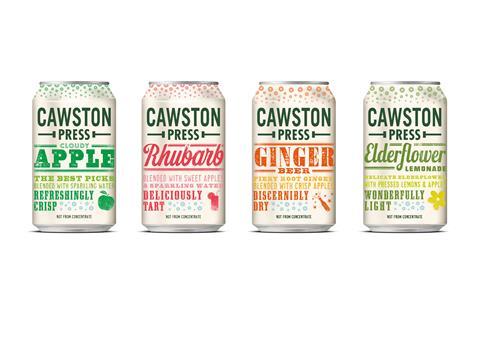 It's not hard to understand why. Where once a supplier could rely on the big four to deliver growth, that meal ticket can no longer be taken for granted. So, in addition to the discounters, and online sales via the likes of Amazon, foodservice is an obvious hunting ground, holding big opportunities, if you know where to look. Growth across the sector as a whole might have been sluggish, with value expected to creep up only 1.7% this year, according to MCA Insight, a slowdown from 2% in 2016. But there are plenty of pockets of potential, particularly in-store food to go and the booming casual dining sectors.

What MCA Insight terms the 'branded contemporary fast food' sector (the likes of Itsu, Wasabi and Chilango), has forecast 13.8% growth to £1.3bn in 2017, it says, closely followed by street food, branded coffee shops and branded delivered food from the likes of Uber Eats and Deliveroo. "Food to go is just popping up everywhere. Who would have thought a few years ago you would get cafés in hardware stores?" says Tom Price, the newly appointed commercial manager of food and out of home at craft yoghurt maker Nomadic of its own foray into foodservice, with plans to target workplace caterers, venues, airlines, and coffee chains. "We've had great interest, probably more than we expected."
"We are seeing much more emphasis on provenance and local sourcing in foodservice"
Crucially "we are seeing so much more emphasis now on provenance and local sourcing in foodservice, people wanting natural food that they can get a sense of where it has come from and who it was made by."

As a result, old stereotypes like giant tubs of generic coleslaw or nondescript coffee behind counters no longer ring true. The role for high-quality, even premium brands is becoming more important, believes Andy Leslie, MD of soft drinks supplier Sunmagic which launched its new freshly squeezed juice brand The Village Press into foodservice in August.

Outlets "don't always show the brands in their establishments, sometimes they will dispense the brand behind the counter, but know they can rely on the quality," he says. It's helped by how fragmented the sector is, split across 328,670 outlets according to MCA Insight, leaving small business owners needing a recognisable brand to fall back on.

Convenient formats of branded offers that require time or skill to prepare are sought after, adds Nomadic's Price. "We make some things even a very foodie operator can't, because they don't have the time or the particular skills, and there is also deskilling going on in some areas of foodservice, so some of our more convenient products work really well for higher volume operators. Niche products like our lassi are really difficult to make well consistently, for example. Something like our bircher muesli would be fairly easy to make, but for high volume operators it makes more sense to buy it in from us in a convenient format."

Return on investment for brands that make a success of foodservice can be lucrative too. "Foodservice is normally a more premiumised occasion so there's opportunity for brand holders to premiumise their offer and its return," adds Mike Faers, CEO of Good Sense Research.

Margins are better too, believes Simon Peacock, director at Catalyst Corporate Finance. "Get it right on innovation and you can get margins of 30% supplying into it. These are not public companies and they do not have to produce numbers every quarter and keep shareholders happy."

If they can strike the right relationship with foodservice business owners, brands can even wrestle back some power on the look and feel of the brand for consumers too, adds CCEP GB marketing director Simon Harrison. "We work on the principle of following the 'shopper' - so the start point is identifying the environment where the consumer is most likely to encounter our brand for the first time and then ensure we build distribution where those customers are first.

"For some brands that could be the supermarket or c-store but for other brands it could be the pub, restaurant or workplace. The advantage of selling a new brand in a foodservice environment is that if you work closely with the operator you can jointly agree how the product is served and therefore how the consumer first experiences your brand."

Venturing into foodservice comes with plenty of challenges, though. Not least, that eating out is a relative luxury, one consumers can quickly cut - a trend that has already kicked since the Brexit vote. "Pre-May 2016 we were forecasting 3.1% growth but post-referendum consumer confidence has plummeted and that negativity has a real impact on the foodservice market," says MCA's Stenning.

Brands may also find the opportunities within foodservice do little to promote their identity to customers. "Growth for retail brands to develop in foodservice is not necessarily around branded products but solutions to support foodservice," adds Stenning. Unilever Food Solutions is one example, with the platform selling 16 of its household brands in dedicated formats into foodservice, alongside tailored promotions, reward programs, and insight for chefs.
"There are a lot of small niches that can be secured with persistence. The challenge is to find the right niche for your brand"
Brands do face erosion, agrees Providence Deli MD Adam Bass, which plans to target foodservice with its new dippers and pretzels product. "Nearly every brand owner in foodservice will want to make your product appear under their brand so, unless you have something unique they can't duplicate, then you're probably going to see your brand erode at some point.

"It's a more complicated, fragmented market but there are a lot of small niches that can be secured with persistence. The real challenge is to find the right niche for your brand. It may be that, to begin with, pricing is reduced as a way of delivering exposure."

Ultimately brands will have to fight hard to win over the competitive foodservice market, warns Peacock. "Targeting foodservice over supermarkets is not an easy win," he says. "It is hard, with much less shelf space and more impulse buying. It is actually more ruthless than in the grocers where you get the shelf space and if you help them manage the category you are in a good place.

"You have to be quick and innovative. Your brand has to be in different size formats and in different packaging. It is a great place to be and there are lots of opportunities and lots of growth but to stay in there you have to be very forward thinking."
10 brands breaking into foodservice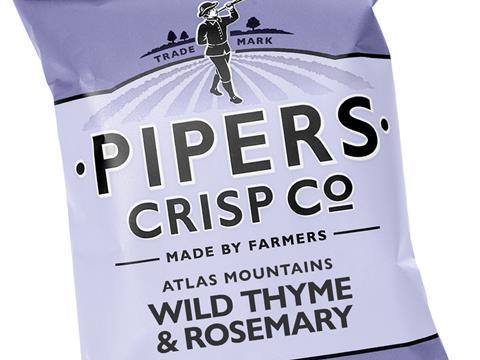 Arla

Last month brand owner Arla launched Arla Pro, a brand new foodservice division that it hopes will generate £100m in sales within the next three years. Bringing together the likes of Lurpak, Anchor and Castello, the initiative follows months of testing the functionality and performance of some of its best known brands in busy foodservice kitchens in partnership with the Craft Guild of Chefs.

Cawston Press

In April premium soft drinks brand Cawston rolled out its sparkling range across all 110 UK Eat restaurants. Its Sparkling Apple and Sparkling Ginger Beer SKUs will now sit alongside a range of sandwiches, smoothies and breakfast items - the vast majority of which sit under its own brand. The move was "a major leap from retail to restaurants" sas new MD Steve Kearns.

Fentimans

Fentimans is defying the slowdown of the traditional soft drinks sector on many fronts, exporting its nostalgic range to 60+ global markets and growing UK retail sales too. But it has also made a concerted push into foodservice with the launch of a seven-strong range of premium mixers for the off-trade in 2016, and has a growing presence in numerous cafés, bars and restaurants worldwide.

Little Moons

Japanese ice cream brand Little Moons forged a lucrative partnership in February, joining forces with sushi kiosk brand Sushi Daily to supply 500 of its outlets in the UK. Products will be co-branded, and feature two special edition flavours developed exclusively for foodservice. And Little Moons will gain a foothold in retail at the same time, with Sushi Daily the brand behind Waitrose sushi counters.

Nomadic

Already available across the big four and a plethora of convenience retailers, craft yoghurt maker Nomadic is now looking to extend its market share in foodservice too. It plans to target everyone from universities, to caterers, to venues, airlines, and coffee shop chains. And only three months ago it created a brand new dedicated foodservice role within the business to lead the charge.

Pieminister

Manufacturer Pieminister capitalised further on its unique position as a direct-to-consumer brand in 2016, adding to its own estate of branded UK restaurants and cafés to bring the total to 12, while strengthening its ties in other areas of foodservice. Its Moo, Moo & Blue and Free Ranger pies are now available to students at branded university outlets on campuses, while 20-plus pubs stock the range.

Pipers Crisps

Premium crisp maker Pipers continues to eschew the supermarkets to build a keen following in the foodservice and leisure sectors. Though packs can be picked up in some independent retailers, the brand focuses its efforts on delicatessens, food-to-go outlets, restaurants, cafés, coffee shops and bars, with dedicated marketing materials for these outlets, from clip-strips to stands.

Providence Deli

Producing premium pestos, harissa pastes, and mayos sold in the mults, Providence Deli is now looking to venture into foodservice with its new chilled dippers. After exhibiting at trade fairs it says it "has had interest from a number of foodservice channels" already and feels the sector "offers broader distribution channels and greater opportunities for impulse purchase" says MD Adam Bass.

Schweppes

As part of its plan to take on premium mixer rival Fever-Tree, Schweppes launched its slick 1783 range in October. And though much of the six-strong range will be sold in retail, its Golden Ginger Ale SKU will be rolled out exclusively to the on-trade in a 200ml format. Its posh new look will also be backed by a £6.6m marketing effort including TV sponsorship, cinema, experiential, OOH and digital.

Sunmagic

Already supplying foodservice with concentrates and juices, Sunmagic targeted the sector again with the August launch of freshly squeezed juice brand The Village Press. Via wholesale the brand is now reaching a diverse set of outlets, from independent sandwich bars to big casual dining chains like Carluccio and Pizza Express, and expects annual sales to reach £4m.
Making your own mark in foodservice?
There's still time to enter the Chefs' Choice Awards 2018. Launched in 2017 the awards recognise the high calibre of foodservice suppliers across the sector, including product manufacturers, wholesalers and own-label or branded suppliers.

There are 27 category awards up for grabs spanning cheese and dairy, free from, meat, vegetarian, desserts, cakes and biscuits.

The rigorous judging process is conducted by Food Innovation Solutions and Good Sense Research and includes preparation of products in a professional kitchen using chefs based on serving suggestions. A specially selected panel of nutritionists, food technologists and development chefs then judge participants on their innovation, innovation, value and creativity.

Winners, finalists and those highly rated will be able to display the Chefs' Choice logo on their products free of charge as an official endorsement of their quality, taste, nutrition and value, as well as providing a platform to promote innovation and credentials.

Entries for the Chefs' Choice Awards are open until Monday 20 November. Those interested in participating can enter via chefschoiceawards.co.uk. Entrants pay a fee of £475 + VAT. The award ceremony will take place on Tuesday 27 February 2018 at London's Haymarket Hotel and individual tickets for the event cost £80.