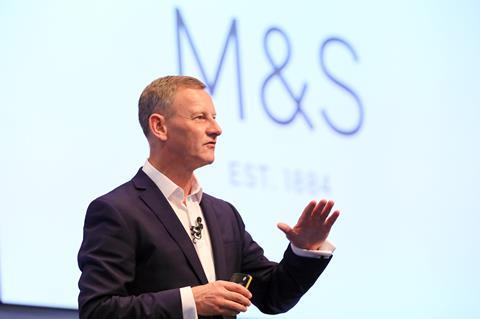 Outgoing M&S CEO Steve Rowe has received a total pay package of £2.6m in his last year as the retailer's head, including a £1.6m bonus.
This was an increase from the £1.1m total pay package Rowe received in 2020/2021, and is his second bonus in six years as CEO. Half of it is to be kept as conditional shares for three years.
The M&S lifer bowed out at the company's annual results meeting last month, where he announced the retailer was back in the black after having reported its first-ever annual loss the prior year.
Meanwhile, new CEO Stuart Machin will receive an annual salary of £800,000 and co-CEO Katie Bickerstaffe, who works a four-day week, will receive £750,000. Group CFO Eoin Tonge will be paid £660,000 per year.
Rowe's bonus announcement comes as Sainsbury's boss Simon Roberts faces criticism for taking £2.8m in bonuses and incentives, in addition to an £875,000 salary, for the year to 5 March.
News of Roberts' £3.8m total pay – a like-for-like increase of 31% over the year after he waived his bonus last year in light of the pandemic – comes not long after the supermarket rejected calls from a coalition of investors to become an accredited living wage employer amid the cost of living crisis.
Tesco's chief Ken Murphy too came under fire last month after receiving a pay package worth £4.75m in its 2021/22 financial year.
Recent research from retail and HR workforce management tech provider Fourth showed retail workers were unhappy with the current level of financial support from their employers as living costs surge.