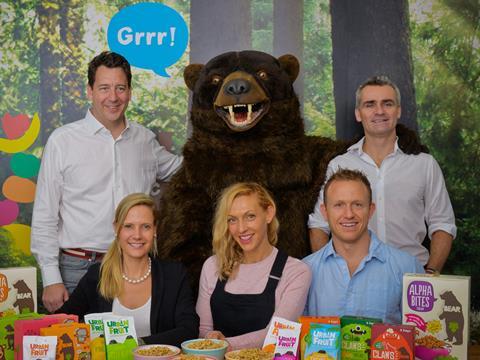 Top story
Snack brands Bear and Urban Fruit recorded another year of healthy growth in the run up to being snapped up by Belgian bakery Lotus for £71m, as parents looked for easy ways to get their kids to eat fruit.
Sales jumped 37% to £22.5m and operating profit by 30% to £2.4m in the year to 31 October 2015 as the Bear's Yoyo fruit range remained in strong demand, newly filed accounts of parent Urban Fresh Foods reveal. However, growth slowed from the 72% rise recorded in the previous year.
Giles Brook, who runs the business with founders Hayley and Andrew Gait-Golding, told The Grocer innovations such as Claws and Paws had played a part in driving growth, with 25% of turnover coming from NPD.
Morning update
Poundland has published its offer document relating to the improved approved bid from Steinhoff yesterday. Poundland shareholders will vote on the deal on 7 September, with the takeover planned to be effective from 16 September.
In an update on trading Poundland said in the past eight weeks the Poundland its business has begun an "operational turnaround" focusing upon improving: retail execution; in-store customer service; and in particular, the performance of the converted 99p Stores estate.
Total sales in the 19 weeks to 7 August 2016 have grown by 29.7% compared to the same period in the prior year to £526m, with like-for-like sales declining by 4.9%.
"However, while Poundland's overall sales performance is in line with guidance given at the time of the announcement of its full-year results, the market has remained challenging and volatile," the document states,
This morning the FTSE 100 is flat at 6,915.4pts.
Coca-Cola HBC (CCH) is up another 2.4% to 1,720.6p after beating first half earnings expectations yesterday, while Hilton Food Group (HFG), up is 2.4% to 590.2p, WH Smith (SMWH), is up 1.9% to 1,598p and PayPoint (PAY) is up 1.7% to 1,047.1p.
Early fallers include AG Barr (BAG), down 2.7% to 512.5p, McColl's Retail Group (MCLS), down 1.3% to 163.3p and Majestic Wine (WINE), down 1.2% to 405.5p.
Yesterday in the City
The FTSE 100 continued its post-Brexit march back towards 7,000pts yesterday, rising 0.7% to 6,914.7pts – its highest level since May 2015.
The FTSE rally was helped by a 7% jump in the share price of European Coke bottler Coca-Cola HBC, which beat market expectations on first half profits yesterday. Operating profits for the six months to 1 July rose 10.8% to €220.6m and net profit increased 11.8% to €140m as a result of cost efficiencies and lower input costs, although currencies dragged back headline figures.
There were also FTSE moves from British American Tobacco (BATS), up 2.6% to 4,985p and Unilever (ULVR), up 2.5% to 3,641.5p.
Other strong risers included Hotel Chocolat (HOTC), up 4.7% to 200.5p, PayPoint (PAY), up 4.5% to 1,030p, Greencore (GNC), up 2.8% to 340.1p and Britvic (BVIC), up 2.7% to 627p.
It wasn't such a good day for the food retailers, with Ocado (OCDO) and Morrisons (MRW) slipping after a boost from their new partnership agreement earlier this week.
Ocado was down 1.1% to 301.7p, with Morrisons down 0.7% to 189.9p. Also Tesco (TSCO) was down 1.5% to 156.6p, Sainsbury's (SBRY) was 0.8% down to 232.7p and Tesco meat supplier Hilton Food Group fell 1.5% to 576.5p.
Despite a 5p per share improvement in Steinhoff's offer for Poundland (PLND) – effectively making the bid 227p per share – Poundland shares dipped 1% in the morning to 220.75p as investors were hoping for a higher bid. The shares had recovered back to trade flat at 224p by the end of the day.