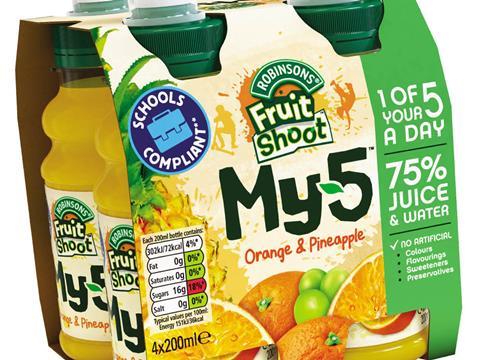 Top story
Robinsons squash owner Britvic (BVIC) has improved its full-year pre-tax profits by more than 10% to £147m despite sales falling as it kept close control of its costs.
Revenues in the year to 27 September slipped 0.6% (3.3% when currency exchange was included) to £1.3bn even though volumes grew 0.9%.
CEO Simon Litherland warned that the new financial year has started slowly as consumers were yet to spend extra disposable income in the soft drinks category and were also more health conscious than ever before.
However, despite the challenging market conditions he added that Britvic has managed to grow share in all its core markets in the past year, which included a "particularly poor" summer in the UK and Ireland.
"We have delivered another strong set of results, with margin growth and profit significantly ahead of last year, despite challenging market conditions," Litherland said. "In all of our core markets, we continued to take volume and value share. I'm pleased to have completed the acquisition of Ebba in Brazil, which will create significant value for shareholders in the future.
"2016 will see significant developments and investment in the drivers of our future growth."
Britvic has secured a route to market for Fruit Shoot multipack in the US with listing confirmed for the first half of 2016. The group is also planning a "major investment programme" in Great Britain.
"We have seen a slow start to the year, reflecting the continued challenging market conditions," Litherland said. "However, with our compelling marketing and innovation plans and our continued focus on disciplined cost management we are confident of increasing our profitability in 2016."
Britvic added it expected Ebitda for 2016 to be within the range of £180m to £190m, up from £171.6m this year.
Shares opened 1.3% up to 719p as a result.
Morning update
Finsbury Food Group (FIF) has had a strong start to the new financial year following the positive performance of 2014-15. The listed bakery group said in a trading update that revenues increased 78.1% to £102m in the first four months of the year, including 10.1% of organic growth. The group's stock jumped 2.3% to 107.4p on the back of the update.
African agri-business Zambeef Products (ZAM) has suffered as a result of the rapid depreciation of the Zambian Kwacha during the year to 30 September. It resulted in exchange losses of US$20.2m (ZMW142m), which pushed the business from pre-tax profits of $15.1m a year ago to a loss of $5m. Zambeef said it had put in an "excellent" performance on an operational basis thanks to the core cold chain food products division trading strongly, with group sales up 4% to $220.2m and operating profit flying 140% to $23m. Chairman Dr. Jacob Mwanza said: "Despite significant macro-economic challenges, the group's performance was commendable, particularly in our core cold chain food products business, and we look forward to growing this business further, both in Zambia and the wider SADC/COMESA region, and developing the business into a regional food supplier."
Yesterday in the City
Greencore (GNC) was one of a number of stocks to end the day in the red as grocery and retail shares suffered general declines. The sandwich maker fell 2.4% to 312.6p despite announcing a 5.2% jump in sales to £1.3bn in the last year as it took advantage of the booming food-to-go sector.
Ocado (OCDO) also got caught up in the general malaise after good gains on Monday following a broker upgrade from UBS. The online grocer ended the day 3.5% down at 343.2p.
Majestic Wine (MJW) also lost some of its fizz with shares falling 4.3% (and 5.5% so far this week) to 324.4p.
Marks & Spencer (MKS) took a 2.5% hit to 496p, with more losses for the supermarkets Tesco (TSCO) and Morrisons (MRW) – down 0.5% to 164.4p and 0.4% to 151.7p respectively. However, Sainsbury's (SBRY) managed a small 0.2% rise to 250.2p.
Robinsons manufacturer Britvic (BVIC) also fell 1.6% to 710p ahead of this morning's preliminary results.
PureCircle (PURE) was one of the few to buck the trend, with shares up 0.7% to 408.7p after the Food Safety and Standards Authority of India approved the use of high purity steviol glycosides, extracted from stevia leaf, in major food and beverage categories.
Conviviality (CVR) and Hilton Food Group (HFG) also made gains, up 2.8% to 207.1p and 1.7% to 524p respectively.