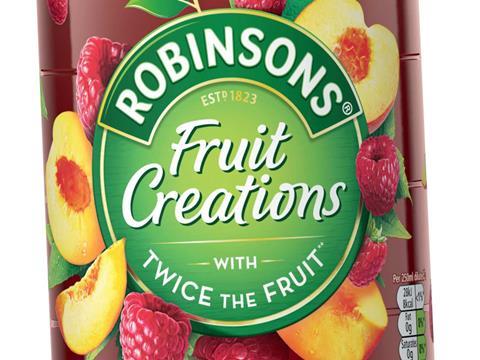 Top story
Britvic (BVIC) has increased revenues in the first quarter by 3.3% to £337.2m as Pepsi Max helped its carbonates division outperform the soft drinks market in the UK, but sales of its range of still products slumped again.
The stills division declined 6.6% in the three months to 31 December, with a volumes down 4.4%. Britvic is battling the slump in the second quarter by launching the more premium Robinsons Fruit Creations and cordials ranges into grocery, supported by a multichannel advertising campaign.
Carbonates sales in Great Britain increased 1% and 4.9% across the group, driven by "the continued success of Pepsi Max in a very competitive market", Britvic said.
The group added that it had also absorbed a number of one-off costs from the collapse of wholesaler Palmer and Harvey last year.
"However, we do not anticipate any longer-term impact with our customer base now being supplied by other wholesalers," the trading update said.
A report by PwC in the administration of P&H published last week revealed Britvic was owed almost £2m as an unsecured creditor of the business.
"We have delivered a solid start to the new financial year, with group revenue growing 3.3% ahead of a strong first quarter last year," CEO Simon Litherland said.
"As we said at our preliminary results, the introduction of a soft drinks industry levy in the UK and Ireland brings a level of uncertainty, but we are well placed to navigate this given the strength and breadth of our brand portfolio and exciting marketing and innovation plans.
"In addition, our continued focus on revenue and cost management and the delivery of the final phase of our business capability programme means we remain confident of making further progress in 2018."
Sales in France declined 5% in a subdued market, and lapping a strong comparative last year when revenue increased 6.3%. A decline in syrups was partly offset by growth in the Pressade juice brand.
Ireland revenue increased 16.5%, benefiting from the acquisition of East Coast in the second quarter last year, which has improved presence in the growing on-trade channel. Owned-brand revenue also increased, due to positive price/mix, led by the stills portfolio.
International revenue declined 8.1%, compared with a 19.8% increase in the first quarter of last year which followed the launch of the Fruit Shoot multipack in the United States.
Brazil revenue increased 22.6%, benefiting from the acquisition of Bela Ischia in the second quarter last year. Organic revenue declined 6.5%, reflecting the continuation of the challenging consumer environment.
Group organic revenue, stripping out the Bela deal, increased 0.7% in the quarter.
The share price wobbled as markets opened on the poor performance of the stills division, with shares down 2.5% to 764.5p.
Morning update
Popularity of Cathedral City, Clover, Country Life and Frylight has helped Dairy Crest (DCG) grow sales 7% in the first nine month of its financial year. However, volumes of Country Life butter are still under pressure from the considerable increase in the cost of cream over the last year.
The group said that cream price had fallen in recent months and Country Life promotional activity would pick up in 2018.
Total revenue for the group was "well ahead" of last year for the nine-month period ended 31 December, driven by a combined strong performance from the company's key brands, Dairy Crest added in the trading update.
Cathedral City delivered another good quarter, which included the launch of a fresh TV sponsorship campaign.
All of Dairy Crest's spreads brands – Clover, Utterly Butterly, Vitalite and Willow – continued to gain market share.
Growth in Frylight remained strong going into the fourth quarter, driven by a significant increase in the number of distribution points across the UK.
CEO Mark Allen said: "We have seen strong growth across our key brands, with Cathedral City, Clover and Frylight performing well and all of our spreads brands increasing market share.
"I am delighted that Cathedral City Spreadable, one of our more recent innovations, was voted 'Product of the Year 2018' in the cheese category by consumers.
"We continue to build the customer base for our functional ingredients business and we will talk in greater detail about this in May."
Shares jumped 2.6% to 574.5p in the group this morning.
Raisio is to start talks with 115 staff over potential redundancies and is weighing up a sale of its cattle and fish feed businesses as the struggling Finnish group continues to try and right the business.
It follows the sale of its confectionery business in December to Valeo.
The group said in one of three separate announcements to the stock exchange in Helsinki this morning that it would start negotiations with 115 staff on 5 February, with initial estimates that it would make 30 employees redundant.
The negotiations concern possible terminations, combinations and restructuring of functions and duties," said Raisio, which employs 325 staff. "The aim is to complete the negotiations during March 2018."
The group added in another statement that it was considering a sale of its cattle and fish feed businesses as one strategic alternative. Raisio has initiated negotiations on the divestment of its feed businesses with several operators. The grain trade business is not for sale. During the negotiations, Raisioagro continues business as usual.
It said in a third announcement that it continued to focus on healthy foods according to its strategy. The Benecol and Healthy Food businesses, which have operated as separate organisations, will now be combined into a single healthy food division. During the spring 2018, the company will also initiate measures to simplify the group's legal corporate structure.
Group CEO Pekka Kuusniemi said: "To ensure Raisio's organic growth, we are going to move from a holding-type structure to a model in which all resources are targeted toward supporting the strategic objectives of the healthy food division. Raisio also seeks growth through acquisitions that suit our core business."
In addition to his CEO role, Kuusniemi will serve as CCO of the healthy food division until a new director is appointed. The new healthy food division is divided into three geographic regions: Northern and Eastern Europe, Western Europe and the rest of the world. The new organisational structure will be put into effect as of 1 February 2018.
Vincent Poujardieu, the vice president of Benecol business and member of the group management team, will leave Raisio today (31 January 2018).
Yesterday in the City
Imperial Leather owner PZ Cussons (PZC) sank 4.9% to 314p after profits dipped in its first half on challenging trading conditions in Europe, in particular in the UK. The group said cautious shoppers in the UK were shunning its bath and shower products in favour of cheaper one in discounters.
Greencore (GNC) was also among the day's fallers despite reporting a strong first quarter trading update. The sandwich manufacturer shares increased first thing in the morning after it said sales leapt 54% to £640.5m in its first quarter thanks to booming food-to-go sales in the UK and a jump in US volumes. However, the stock ended the day down 2% to 198.1p.
SSP Group (SSPG), Marks & Spencer (MKS) and Associated British Foods (ABF) also finished in the red, down 2.7% to 619p, 1.6% to 305.3p and 1.4% to 2,789p.
Risers for the day included Reckitt Benckiser (RB), Coca-Cola HBC (CCH) and Unilever (ULVR), up 1.5% to 6,888p, 1.3% to 2,431p and 0.5% to 3,985p respectively.