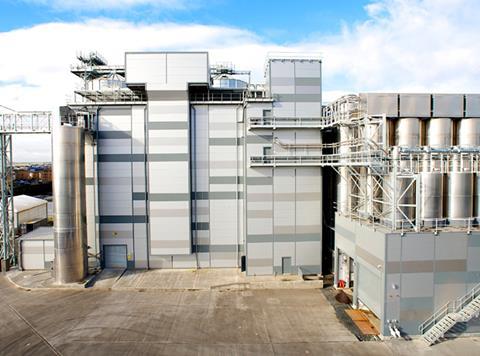 Top story
Lower commodity prices have driven a 4.1% reduction in full year revenues at Carr's Group (CARR), but the agriculture and food group reported a 6% rise in full year EBITDA.
Revenue full the full-year to 29 August were down 4.1% to £411.6m primarily due to commodity price reductions.
However EBITDA was up 6% to £21.6m and profit before tax up 5.5% to £17.5m thanks to improved performance in its agriculture and food divisions.
Agriculture profit before tax (excluding contribution from associate and JVs) was up 8.8% to £10.4m, driven by a strong performance in its USA feed block business, while food profit before tax was up 6.3% to £2.4m due to improved operational efficiencies. Its engineering arm saw profit before tax drop 16.7% to £3.1m.
Chairman of Carr's Group, Chris Holmes, said: "I am pleased to report that the Group achieved another record year of profit before tax, despite a number of headwinds across all of our divisions. We have been able to achieve this due to the diversity of our business and the resilience of our business model, together with the hard work of our management team and all of our employees.
While we expect these headwinds to continue in 2016, we are in a very strong position to handle those challenges and capitalise on any potential opportunities."
Morning update
There's not much else to get excited about on the markets this morning on a quiet start to the week.
The FTSE has had a perky start to the week, rising 0.4% in early trading to 6,377.4pts, despite more worrying data from China – this time its import/export figures.
Sainsbury's (SBRY) is amongst the FTSE 100's biggest movers after gaining 1% this morning to 277.3p. Tesco (TSCO) and Morrisons (MRW) and also trading higher this morning – rising 0.6% to 183.9p and 0.7% to 169.7p respectively.
Also gaining strongly is Coca Cola HBC (CCH), up 0.9% to 1,544p. Carr's is pretty much unchanged (0.1% down) at 150.6p.
This week in the City
It's not the busiest week of the year this week, but there are notable trading updates from Premier Foods (PFD) and Sainsbury's in the diary.
Premier Foods will issue its interim results tomorrow as it looks to return to growth following a period of retrenchment and restructuring. Sainsabury's will release its half year results on Wednesday and is likely to shed more light on the damage the price war has done to the supermarkets' bottom lines.
Thursday brings half results from SABMiller (SAB) as the market still waits for the emergence of a final agreement of the AB InBev (ABI) takeover agreed last month. Thursday will also see Q3 trading updates from packaging firm Rexam and Netherlands-listed Refresco Gerber.
This month's BRC Sales Monitor will be released tomorrow morning, while in wider economic news Wednesday sees the release of the latest UK unemployment figures.