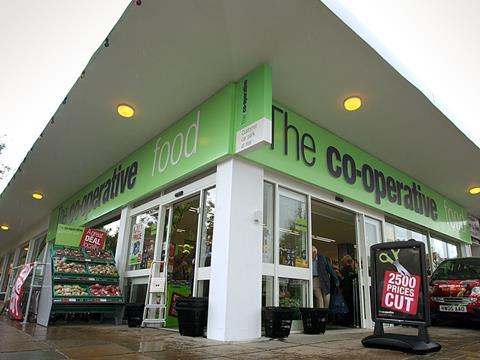 Top story
The Co-operative Group has waded into the supermarket price war with £125m committed to slash the cost of fruit and veg across its 2,800 UK stores.
The society is ploughing millions of pounds into lowering the prices of its fresh produce by as much as half, with major discounts on more than 100 lines.
Co-op said the move was part of an investment strategy to become the UK's number one convenience retailer and played to consumers' shifting shopping habits to buy a little, often. It has already lowered the cost of everyday staple products, such as eggs, chicken, bacon and bread.
"Consumers are shopping differently, buying little, more frequently and, increasingly swapping the weekly shop for purchasing what they need, when they need it," retail chief executive Steve Murrells said.
"In addition, food retailing remains highly competitive and we have responded to provide customers with great prices and fresh, quality produce at each of our stores. This makes our price investment the biggest by a convenience retailer, providing consumers across the length and breadth of the UK with lower priced produce and helping them to keep shopping in their neighbourhood."
Price cuts on the fresh fruit and vegetables range includes revolving offers to be known as "fresh three", starting with Iceberg lettuce, carrots and cucumbers at 39p.
The move follows Morrisons reducing the price on 200 everyday items last week and represents a fresh escalation in the bruising price war between the big supermarkets as they desperately try to hit back at discounters Aldi and Lidl.
Last week, ratings agency Moody's warned that the big four could not afford to make any more price cuts and would not see a recovery in margins for 12 to 18 months as Aldi and Lidl continued to gain market share.
Morning update
Ahead of Poundland's results tomorrow there is no news on the London Stock Exchange for grocery companies this morning.
There are, however, reports that Rimmel mascara owner Coty is close to taking over $12bn worth of Procter & Gamble's beauty assets, according to sources close to the deal. The New York-based company, which is bidding against several larger rivals and private equity groups, would become the world leader in perfume and haircare if the deal completes. It is part of Coty's strategy to reverse its own declining sales trends. P&G is looking to offload the assets in a long-term strategy to narrow its focus on fewer, faster-growing brands. Coty, which also makes perfumes for brands including Calvin Klein and Marc Jacobs and celebrities including David Beckham, shares soared 19.4% to $31.09 on the New York Stock Exchange in anticipation its will add P&G brands such as Olay, Christina Aguilera Perfumes and Wella to its portfolio.
Yesterday in the City
With little news flow on the London Stock Exchange from grocery and fmcg companies yesterday there wasn't much excitement in terms of share price movement.
The leading London shares ended the day unchanged at 6,710.1 points after bouncing up off five-month lows earlier on. The FTSE 100 got a boost from tobacco stocks and a stabilisation in equity markets.
British American Tobacco (BATS) closed 2.9% higher at 3,511p after an upgrade from 'outperform' to 'buy' by broker firm CLSA. The rise also lifted rival Imperial Tobacco (IMT) up 1.6% to 3,225p.
Majestic Wine (MJW) clawed back some of yesterday's fall as investors took stock of new CEO Rowan Gormley's initial noises about a three-year turnaround. The stock finished 1.8% up to 428.5p after falling on Monday following a big drop in pre-tax profits.
Fallers yesterday included stevia producer PureCircle (PURE), chocolatier Thorntons (THT) and online grocer Ocado (OCDO), which were down 2% to 370p, 2% to 99p and 1.6% to 376p respectively.