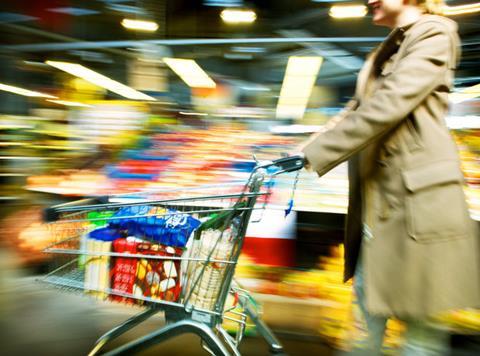 Top story
Consumer confidence has bounced back to pre-Brexit levels following a dramatic collapse in confidence after the UK voted to leave the EU.
GfK's l Consumer Confidence Index has increased by six points this month to -1, with all five measures used to calculate the index seeing increases.
The forecast for personal finances over the next 12 months increased by three points to +7 – one point higher than this time last year.
Expectations for the general economic situation over the next 12 months leapt 13 points to -9 this month, though this remains seven points lower than September 2015.
Joe Staton, head of market dynamics at GfK, said: "Optimism is returning to UK consumers following the dramatic collapse in confidence after the recent Brexit result.
"The six-point jump to -1 restores the Index to June's pre-Brexit levels, driven by improved expectations in our personal financial situation, perceptions of the general economic situation and intentions to make major purchases.
"British consumers appear to have shrugged off Brexit fears about the economy as wages continue to grow faster than prices, rising employment boosts income, and low interest rates encourage people to spend rather than save as seen by improvements in the Major Purchase Index and low levels in the Savings Index."
Morning update
Premier Foods (PFD) has announced that David Beever will step down as chairman of the Company during 2017 after nine years on the board, "in order to reduce his work commitments".
Premier said it will now commence an external search for his successor, led by Ian Krieger, senior independent director. "The Board would like to thank David for his continuing commitment to the business and for the key role he has played in the turnaround of the business."
Beever was subject to investor criticism earlier this year when he and the Premier board rejected a bid from US suitor McCormick without putting it to a shareholder vote, instead opting to sign co-operation agreement with Japan's Nissin Foods.
Elsewhere, The John Lewis Partnership today announces that Andy Street will step down as Managing Director, John Lewis on 28 October. After a 31 year career with the partnership, including nine years as MD, John Lewis, it was confirmed last night that Andy has been selected as the official Conservative Party candidate for the office of Mayor of the West Midlands. "The successor to the position of MD will be announced in due course," John Lewis stated.
English sparkling wine producer Gusbourne has announced a leap in revenues and profits for the six months ended 30 June 2016.
It has reported first half revenue growth of 40% to £266k, and a 54% improvement in gross profit to £94k.
It has also recently appointed United States based specialist wine importer, Broadbent Selections, as its agent in the US with the first limited consignment of wine dispatched to the US in July 2016
Andrew Weeber, chairman, commented: "I am delighted with the progress the company continues to make in line with our long-term development plans. Our increasing revenues, which remain limited to stock availability, reflects both the expansion of wine production as well as increasing customer demand for our award winning sparkling wines.
"I am particularly proud of the Gusbourne management team who combine their professionally qualified skills with passion and enthusiasm to produce and deliver the highest quality Gusbourne wines to our growing customer base. I would like to thank both our customers and staff for their continued support."
Finally, Africa-focussed agribusiness Zambeef (ZAM) has issued an update on its performance for the year ending 30 September 2016.
It said its "strong" trading performance of the first six months of the financial year has continued with the beef, pork, dairy and stock feed operations, in particular, all showing strong volume growth.
The conclusion of the CDC Group plc transaction (as initially announced on 4 August 2016) resulted in an investment into Zambeef of US$65m. During the second half of the financial year, the Zambian Kwacha has continued to remain relatively stable against the US Dollar, and the Group is expected to incur foreign exchange gains for the financial year.
Carl Irwin, Joint Chief Executive of Zambeef, commented: "In line with the Group's strategy, it is pleasing to note that gearing has been reduced significantly following the CDC transaction, which also allowed Zambeef to settle the two RCL Foods plc put options. Furthermore, driving the cold chain food products through the retail network will continue to be a key focus."
On the markets this morning the FTSE 100 is 1.1% down at 6,840.2pts on worries in the financial sector triggered by troubled Deutsche Bank.
Most major stocks are down as the FTSE heads south, with Marks & Spencer (MKS) down 1.6% to 316p, Morrisons (MRW) down 1.2% to 215.4p, Sainsbury's (SBRY) down 1.2% to 239.6p and Unilever (ULVR), down 1.1% to 3,611p.
Risers are few and far between, but Nichols (NICL) is up 1.2% to 1,407p and Hotel Chocolat (HOTC) is up 1.1% to 234p.
Yesterday in the City
The FTSE 100 continued where it left off on Wednesday, rising another 1% to 6,919.4pts yesterday.
It was a good day for a number of grocery retailers, with Ocado (OCDO) continuing to recover ground after a difficult spell by rising 3.3% to 263.1p yesterday. Also on the up were Marks & Spencer (MKS), up 2.3% to 321.1p, Tesco (TSCO), up 1.3% to 178p and Sainsbury's started its bounce back from its Wednesday share price fall rising 0.6% to 242.4p. However, Morrisons (MRW) slipped back 0.9% to 218p.
Other risers included Coca-Cola HBC (CCH), up 1.1% to 1775p and TATE & Lyle (TATE), up 1% to 740p.
Imperial Brands (IMB) was up 0.8% to 3,960.5p after it said its growing presence in the US would drive "strong" full year sales growth.
Fallers included Crawshaw Group (CRAW), dropping 2.8% to 34.5p after revealing a heavy first half sales drop yesterday, Premier Foods (PFD), down 2.8% to 52.5p, Hilton Food Group (HFG), down 2% to 621p and Conviviality (CVR), down 1.8% to 213.5p.