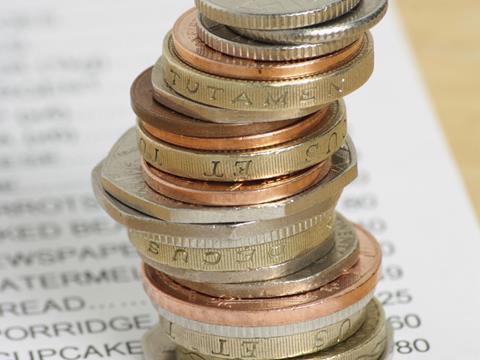 Top story
Consumers confidence remained stuck in the doldrums in March as Brexit concerns continue to loom and wages fail to keep up with inflation.
The GfK long-running consumer confidence index was stable at -6 this month, with three of the five measures staying the same and two recording increases.
Despite worries, the major purchase index, which measure household spending, actually increased one point in March to +6 – however, it was still five points lower than a year ago.
The index measuring changes in personal finances during the past 12 months increased by one point this month to +2 – two points lower than this time last year.
The measure for the general economic situation of the country during the past and next 12 months has stayed at the same level at -21 (11 points lower than March 2016) and -20 (eight points lower).
"No real upsets this month as the barometer continues to bump along in negative territory," said Joe Staton, head of market dynamics at GfK.
"Consumers remain cagey about the state of their personal finances and the general economic picture for the UK, especially as wage growth fails to keep pace with the rising costs of living.
"Since the Brexit referendum, household spending has been a big driver of growth, so any slump will dent future economic prospects. However, if we carry on shopping, as seen by the uptick in the Major Purchase Index, then forecasts for a post-Trigger/pre-Brexit slowdown could be proved wrong."
Morning update
Danone (BN) has taken major step towards the closing of the $12.5bn WhiteWave acquisition as it reached an agreement in principle with the antitrust division of the United States Department of Justice. As part of the agreement, Danone has decided to sell one of its US dairy subsidiaries, Stonyfield, in the months following the closing of the acquisition of WhiteWave. Stonyfield generated approximately $370m in turnover in 2016.
Danone CEO Emmanuel Faber said: "As part of the agreement in principle with the DOJ, we made the strategic decision to divest Stonyfield as it allows us to take a major step towards completing the WhiteWave transaction expeditiously. This is a good outcome as it addresses the DOJ's concerns and enables Danone to shortly begin to capture the benefits of the combination, and the value creation announced last July.
"WhiteWave is expected to accelerate Danone's 2020 profitable growth journey, drive strong value creation and deliver attractive financial benefits, including an above 10% EPS accretion based on run-rate synergies. Through this perfect match, we will bring together complementary portfolios, including some of the fastest growing, health-focused categories that are strongly aligned with long term consumer trends."
Shares in Danone dropped 0.4% this morning as markets opened to €63.27.
Mail and logistics firm DX Group is in talks with John Menzies about a potential £60m combination with the latter's distribution division. A statement to the stock exchange said a merger would have "strong strategic logic for all stakeholders" and represented an opportunity to deliver "significant value" to both companies' shareholders.
The boards of DX and John Menzies added they believed the combination would also benefit customers through the creation of a logistics and parcel carrier of enhanced scale and capability operating through a 24-hour UK wide network.
The transaction would include DX acquiring Menzies Distribution for consideration, on a cash and debt free basis, comprising £60 in cash and the issue of new DX ordinary shares.
The boards of DX and John Menzies currently anticipate the transaction will be completed during the summer of 2017. Discussions are ongoing and there can be no certainty that a transaction will occur.
Zeus Capital is acting as financial adviser to DX and Rothschild is acting as financial adviser to John Menzies.
Logistics group Wincanton said in a very short trading update this morning ahead of preliminary results for the year ended 31 March 2017 that it continued to trade in line with expectations.
Marks & Spencer (MKS) is back up sharply this morning, climbing 1.1% to 334.9p. Imperial Brands (IMB) continued ysterday's good work, up another 0.9% to 3,876.5p. Ocado (OCDO) is also up 0.6% to 241.5p. Fallers so far include Diageo (DGE), down 1.8% to 2,267p, Greencore (GNC), down 1.1% to 244.5p and Morrisons (MRW), down 0.9% to 240.2p.
Yesterday in the City
Booker (BOK) slumped 1% yesterday to 197.2p despite a positive fourth quarter update. Non-tobacco group like-for-like sales were up 4.7% in the final quarter ahead of its £3.7bn buyout by Tesco. However, the display ban hammered tobacco revenues in the quarter, down 8%. Total sales for the 52 weeks to 24 March 2017 rose 6.7% to £5.3bn.
Tesco (TSCO) also had a bad day as the market continued to take stock of the proposed merger and the big fines earlier this week. Shares fell 0.7% to 189p.
Agriculture and engineering group CARR's (CARR) plunged by 16.6% to 125.5p after it issued a profits warning.
Imperial Brands (IMB) fared better, climbing 0.5% to 3,845.5p after it told markets in a first-half trading update that it remained on track to meet earnings expectations for the year.
Hilton Food Group (HFG) also had a stellar day as shares leapt 3% higher to 660p. The Tesco red meat supplier grew volumes 7.4% in 2016, with revenues jumping 13%.
The FTSE 100 recovered from afternoon falls to finish just 0.1% in the red at 7,369.52 points as confidence remained fragile on Trump and Brexit uncertainty.
Associated British Foods (ABF), Marks & Spencer (MKS) and Unilever (ULVR) were among the losers, falling 1.9% to 2,599p, 1.4% to 330.8p and 1% to 3,989.5p.
Morrisons (MRW) was the big climber of the day, shooting up 2.2% to 242.5p, but Coca-Cola HBC (CCH), SSP Group (SSPG) and Greggs (GRG) also did well – up 1.7% to 2,67p, 1% to 416p and 0.8% to 1,048p respectively.