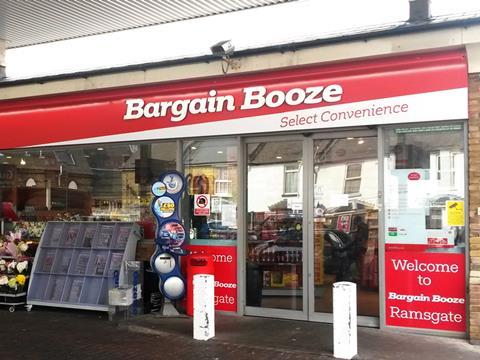 Top story
Bargain Booze owner Conviviality Retail (CVR) has agreed to buy drinks wholesaler Matthew Clark in a deal worth £200m to create a UK drinks wholesale with annual sales of over £1.1bn.
Conviviality said the enlarged business will be "independent of major drinks brands, enabling it to supply an unrestricted selection of products to customers who value breadth of range."
Matthew Clark generated revenue of £811.2m and adjusted EBITDA of £25.3m in the year to 28 February, while Conviviality grew revenues to £364.1m in the year to 26 April 2015.
As the deal constitutes a reverse takeover, Conviviality suspended trading of its shares in July when The Grocer contacted the firm over the story it was looking to acquire Matthew Clark.
The acquisition will be funded by a placing of 86.7m ordinary shares of 150p each to raise £130m, and by £80m from new debt facilities.
Chief executive of Conviviality Diana Hunter said: "We are pleased to have reached agreement on the acquisition of Matthew Clark as this will accelerate our strategy of expanding our wholesaling expertise into new markets and channels. Matthew Clark has a leading position in the independent on-trade market, complementing Conviviality's position in the off-trade, and the team bring significant on-trade wholesaling expertise and an unrivalled portfolio of high quality and loyal customers.
"By operating a delivered wholesale model we can serve a diverse range of customers and build our wine and spirit volumes further while simultaneously strengthening our retail channel. The acquisition will create a major player in the UK drinks wholesale market, and we believe that combining the two businesses will give rise to significant potential synergies, which will drive increased returns for Conviviality's shareholders."
Conviviality shares began trading again this morning - jumping some 23.9% to 192p soon after the market's opening.
Morning update
With the Conviviality/Matthew Clark deal confirmation breaking this morning, it's a busy day in the City.
Meat packaging firm Hilton Food Group (HFG) said trading "remained strong" in the 28 weeks to 12 July, despite "competitive retail grocery markets and weak macroeconomic conditions" in some of its European markets.
Volumes increased by 5%, driven by new contractual arrangements with Tesco in the UK. Turnover in contrast fell by 2.2% to £579.2m due to adverse exchange translation movements (reducing turnover by 7.7%) and difficult trading conditions in Sweden and Denmark. Operating profit for the first 28 weeks of 2015 was at £13.7m, 1.3% ahead of last year.
Private label household goods manufacturer McBride (MCB) saw revenues slide by 5.4% to £704.2m in the year to 30 June 2015, as the weakening euro hit its reported sales. Full year constant currency revenues were marginally ahead (+0.3%) of the prior year despite "challenging conditions" in many of its key markets, with Private Label sales 0.5% higher.
Strong growth in Germany of over 30% was offset by weak sales activity in France, Italy, Spain and Poland and UK revenues which were lower by 4.8%. However, group operating results now reflect the benefits of the UK restructuring project that was announced in June 2014, with adjusted operating profit up 29.5% to £28.5m.
Finally in company news, brewing and pub company Greene King (GNK) has updated the market on its first 18 weeks of the year to 6 September. Like-for-like sales in Greene King Retail grew by 1.3% with growth of 1.9% in the last ten weeks. Excluding the continued impact of drink-driving regulations in Scotland, LFL sales were up 1.8% in the first 18 weeks, and up 2.4% in the last ten weeks. LFL sales in the Spirit managed estate grew by 0.8% over the last 18 weeks.
This morning also brings the BRC-KPMG Retail Sales Monitor for August. UK retail sales decreased 1% on a like-for-like basis from August 2014, when they had increased 1.3% on the preceding year. On a total basis, sales were up 0.1%, against a 2.7% rise in August 2014. Adjusted for the BRC-Nielsen Shop Price Index deflation, total growth was 1.4%.
In the three months to August, total food sales were up 0.3% meaning that the twelve-month average total food growth turned positive for the first time since August 2014.
The FTSE is continuing its better run of late, rising another 1.3% to 6,153.3pts in early trading. McBride is 2.1% up to 122p this morning, Hilton up 1.2% to 425p and Greene King up 1.3% to 822p.
Yesterday in the City
The FTSE 100 started the week on a mildly positive note, rising 0.5% to 6,074.5pts.
After huge volatility over the past two weeks, there was more muted share price movement on a less dramatic day in the City. Most of the major grocery/fmcg firms were up, but Unilever's (ULVR) 0.7% rise to 2,590p was the best of the FTSE 100's food and drink firms.
Tesco (TSCO) ended the day precisely where it began – at 185.95p – after confirming the £4bn sale of Homeplus. Associated British Foods (ABF) was down 0.8% to 3,113p after warning that continuing weak performance of its sugar division and the impact of the strong pound would hit full-year profits.
Elsewhere, AG Barr (BAG) was up 1.7% to 579.5p, while Ocado (OCDO) dropped 1.4% to 321.7p and Coca-Cola HBC (CCH) dropped 1.3% to 1,287p.