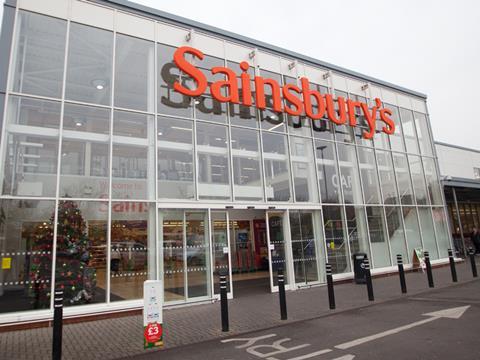 Top story
Supermarket prices have fallen back to their record level of -2.9% across the big four as the mults slashed the cost of everyday items, according to the latest Grocer Price Index.
It comes in a week when Sainsbury's CEO Mike Coupe reported a near 14% fall in yearly pre-tax profits as he invested heavily to bring down prices at the supermarket to stay competitive.
And the data collated by Brand View from more than 61,000 SKUs across the big four showed just how tough it was out there in the month to 1 April.
Tesco saw its prices fall by 3.4% across its product range year-on-year - equalling its highest level of GPI deflation to date - partly driven by big price drops in categories that saw the launch of its own-label Farms brands during the month.
Morrisons had been the biggest annual price cutter last month, recording price falls of 3.6% across its range.
Sainsbury's saw annual deflation of -3%, while deflation at Asda eased to -2% having recorded -3% in the month to 1 March. Waitrose, which is not included in the overall GPI figure, saw prices drop 1.3% year on year.
For the full story see this weekend's new issue or click here at thegrocer.co.uk.
Morning update
There is little to report this morning on the markets. Sports nutrition business Science in Sport (SIS) has appointed Elizabeth Lake as finance director with effect from 18 July 2016. For the past four years, Lake has been FD at Hugo Boss UK and Ireland where, in addition to being responsible for the finance, accounting and business intelligence functions, she oversaw new store growth through the selection and acquisition of new sites. She has also worked at listed companies Marks and Spencer, Pearson and Thomson Reuters.
CEO Stephen Moon said: "I am very pleased to have added such a highly experienced and commercially oriented finance director to our leadership team. We are in a period of rapid expansion, both domestically and internationally, and Elizabeth's skills will be an undoubted asset as we seek to extend further our market leadership in endurance sports nutrition."
The Southern Co-operative has revealed a jump in its annual sales for the 53 weeks to January 30th 2016. The society, which has 250 community food stores and funeral operations in 11 counties across the South of England, reported a 4.7% increase in total income to £366.8m. Group operating profit also increased 4.4% to £4.8m.
CEO Mark Smith said: "These results reflect the continued hard work and commitment of all our colleagues. Our business has grown significantly following investment over recent years and we continue to grow, with £17m invested back into the business last year.
"In our food business, this investment enabled us to open 11 new stores, and to implement important changes to store layouts that will enable us to more accurately match our product ranges to the needs of local customers. Retail sales in the year grew by £14.5m to £346.3m while sales of locally sourced products, branded as Local Flavours and now stocked in 75% of our stores, increased by 10%. More generally like-for-like food sales strengthened during the year and were 3.1% higher in the final quarter."
Elsewhere on The Grocer this morning there is news that Karro Food Group has returned to profit after a turnaround plan "fully transformed" the British pork supplier three years after it was sold by Vion. Karro posted a pre-tax profit of £12.5m in the year to 26 December 2015, having recorded a loss of £12.2m in 2014. The full story will be live on thegrocer.co.uk this morning.
Yesterday in the City
Morrisons (MRW) clawed back most of the 1.8% loss in its share price which followed the latest Kantar market share data on Wednesday. It finished the day as one of the biggest risers on the FTSE 100 after it reported a second consecutive quarter of like-for-like sales growth. The stock rose 2.2% to 191.6p.
Greggs (GRG) jumped almost 5% to 1,095p ahead of its quarter one trading update on Monday. Growth has been impressive at the food –to-go baker in the past year, meaning it will be facing up against some tough comparatives from now on.
At the other end of the spectrum, Sainsbury's (SBRY) fell another 1% to 265.4p to take losses to more than 8% for the week as investors took flight on Mike Coupe's warning of more difficulties to come in the grocery market.
Ocado (OCDO) joined it in the red, with shares down 2.6% to 287p, as did Tesco (TSCO), falling 0.3% to 159.5p – or 7.6% in the past three days.
Imperial Brands (IMB) and Cranswick (CWK) kept their heads above water to close 1.4% up at 3,760p and 0.8% to 2,297p respectively.
The FTSE 100 was flat for the day at 6,117.25 points after falling to a month low on Wednesday as worries over Brexit continued to hang over markets.