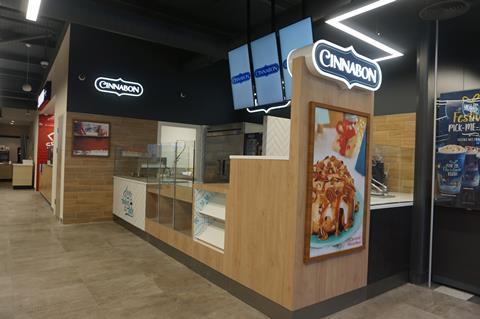 Top story
Petrol forecourt giant EG Group is set to create 2,000 jobs with the opening of 150 Cinnabon stores across the UK after partnering with the US cinnamon roll brand.
The group will open a Cinnabon bakery on the Frontier Park industrial park on the outskirts of Blackburn on 4 December, with additional sites to roll out from early January.
The freshly made Cinnabon dough will be produced from scratch at a central kitchen in Frontier Park and distributed daily to stores within EG Group locations. The dough will then be hand-rolled and baked in store.
The production facility will support up to 50 stores with daily deliveries of fresh dough.
EG Group plans to open 150 stores over the next five years across the UK, creating up to 2,000 jobs nationwide.
"Cinnabon is a well-recognised and enjoyed brand," said Mohammed Tayab, EG Group food & beverage director for Europe.
"We are delighted to be able to serve our UK customers with delicious, freshly baked products when they want to treat themselves. EG Group has once again partnered with another global brand, bringing the ultimate convenience to customers."
Sean Wooden, European managing director at Cinnabon owner Focus Brands, added: "We are delighted to be returning to the UK to deliver our Cinnabon product to our UK fans.
"Focus Brands International has been working closely with the team at EG Group to be able to deliver the world's most famous cinnamon roll and provide a moment of sweet escape for UK residents and travellers."
Cinnabon is the latest food-to-go outlet to join EG portfolio, alongside the likes of Greggs, Subway and Starbucks.
Headquartered in Blackburn, EG Group employs more than 44,000 staff at more than 6,000 sites across Europe, the US and Australia.
Owners Zuber and Mohsin Issa, along with PE partner TDR Capital, agreed to buy a majority stake in Asda from Walmart for £6.8bn in October.
Morning update
Unilever has completed its unification of its group legal structure under a single parent company headquartered in the UK.
From today, for the first time in its history, Unilever now trades with one market capitalisation, one class of shares and one global pool of liquidity while also maintaining the group's listings on the Amsterdam, London and New York stock exchanges.
Chairman Nils Andersen said: "This is an important day for Unilever and we would like to thank our shareholders for their strong support of our unification proposals, which give us greater flexibility for strategic portfolio change, remove complexity and further improve governance."
There will be no change to the operations, locations, activities or staffing levels in either the Netherlands or the UK as a result of unification. The headquarters of Unilever's foods & refreshment division will continue to be based in Rotterdam and the home care and beauty & personal care divisions will continue to be headquartered in the UK.
Pets at Home Group has acquired independent veterinary telehealth provider The Vet Connection (TVC) for £15m.
Founded in 2002, TVC has an established track record of providing on-demand, round-the-clock veterinary telehealth advice, triage and ancillary services to a range of customers and their pets.
Using an in-house veterinary team, TVC already conducts approximately 90,000 remote consultations each year.
In the year to April 2020, TVC achieved adjusted EBITDA of £700,000.
Pets at Home CEO Peter Pritchard said: "The acquisition of TVC marks an important next step in the development of our digital capabilities providing trusted advice and even more convenient pet care services."
He added: "We recognise TVC's exceptional telehealth capabilities and excellent service levels, as well as the opportunities arising from the scalability of their clinical protocols and proprietary telehealth platform and look forward to incorporating their capabilities into our existing customer offer - across product, services and subscriptions - to enhance the overall customer experience, and help drive customer acquisition, retention and lifetime value.
!TVC is a 'win-win' solution for our customers, colleagues and JVPs, providing 24/7 access to trusted advice from the comfort of home with increased flexibility around veterinary work-life balance."
The FTSE 100 has started the week on the front foot despite Brexit concerns to rise 0.3% to 6,387.21pts this morning.
Early risers in the food and drink industry include Vimto maker Nichols, up 6.7% to 1,099p, Devro, up 4.1% to 162.4p, McBride, up 3.6% to 68.4p, and Naked Wines, up 3.4% to 579p.
Bakkavor was among the early fallers, down 3.9% to 78p, along with SSP Group, down 2.5% to 331.5p, WH Smith, down 2.2% to 1,427p, and Compass Group, down 0.9% to 1,404.7p.
This week in the City
It is looking like a very quiet week on the markets for food and drink as we roll into December.
Wednesday brings final results for drinks group Stock Spirits and the latest shop price index from the BRC, while the ONS announces the latest retail sales data on Thursday and, in the US, Kroger reveals Q3 results.
There is also the latest quarterly reshuffle of the FTSE 100 on Wednesday and the Associated British Foods AGM on Friday.