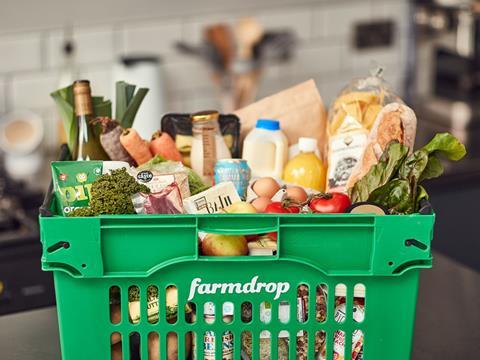 Top Story
Local farm-to-consumer food delivery service Farmdrop has promoted CFO Eleanor Herrin to the role of chief executive officer.
Herrin, who joined the business a year ago after having spent 17 years at Amazon, will replace founder Ben Pugh who started the business in 2014.
Pugh said he remained "as committed as ever" to Farmdrop and will continue to support the business as a board member.
Since joining, Herrin has been responsible for increasing the average order value by £20 and launching Made by Farmdrop - a new range of handmade ready-meals to be delivered by the business - generating a 75% growth rate in revenue year-on-year, the company said.
"The next chapter of Farmdrop is all about scaling and excellence in execution, and I can think of no one better to lead that charge," Pugh said.
"As the founder of Farmdrop, I know we have a huge opportunity ahead of us. Since Eleanor joined Farmdrop she has brought a massive upgrade to the business in terms of her proven expertise in fresh food delivery, seasoned operational track record and mission-driven DNA.
"Indeed, I believe I've found the best person possible to create more value for our stakeholders, farmers and customers and am extremely excited about this next stage for the business."
The leadership change follows a £5m fundraise completed at the end of August, bringing the total raised by the company since its inception to over £25m following three previous investment rounds in 2016, 2017 and 2018 as well as an initial campaign of crowdfunding.
Farmdrop used the earlier cash injections to expand its services beyond London, launching in Bristol, Bath and Manchester. It also used funds to invest in artificial intelligence technology to offer personalised recommendations based on customers' behaviour and past purchases.
The latest cash injection will be used to continue backing Farmdrop's nationwide push.
Morning update
Plant Health Care, a provider of patented biological products to global agriculture markets, has reported a slowdown in sales for the first half of the year due to import licence delays in Brazil.
For the six months ended 30 June, the company's revenues amounted to $2.7m, down from $3m a year ago.
Without the delay, a $500k order from Brazil which fell into July, would have been recognised during the first half, showing marginal improvement to the firm's total turnover.
Excluding Brazil, sales increased 4% in the first half to $2.7m. Meanwhile, sales orders increased 10% year-on-year to $3.3m, despite "challenging market conditions".
Plant Health Care generated a pre-tax loss of $2.8m compared to $5.0m a year ago.
"I am delighted with the progress Plant Health Care has made during the first half of 2019," chairman and interim CEO Christopher Richards said.
"The group's commercial business is forecast to generate a material EBITDA in 2019, for the first time. We are confident of achieving material revenue growth in 2019 despite macro-level market-driven challenges, although revenue will be slightly lower than previous expectations."
On the markets this morning, the FTSE 100 has opened the week 0.2% higher at 7,438.78pts.
Early risers included Stock Spirits Group (STCK) up 3% at 239p, Glanbia (GLB) up 2.7% at €11.43 and Premier Foods (PDF) up 1.4% at 32.71p.
Among the fallers, Imperial Brands (IMB) continued on a downward trend followig the US crackdown on vaping, down 1.3% at 1,752p, while Tesco (TSCO) fell 0.6% at 243p amid news it might be selling its struggling Polish business.
This week in the city
Tomorrow high street baker Greggs (GRG) publishes its third quarter sales figures, while Marks & Spencer (MKS) will host a capital markets day as it continues with efforts to turnaround the business.
Wednesday brings the release of Tesco interim results, while the British Retail Consortium will publish its monthly Shop Price Index with inflation figures for the month of September.
On Thursday, US company Costco releases its annual results while PepsiCo (PEP) publishes its third quarter figures.