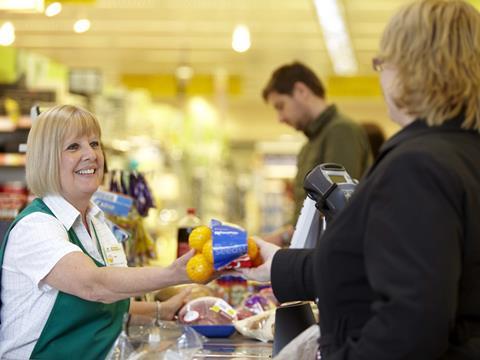 Top story
Kantar Worldpanel market share data shows a slight increase in food sales in January, but Nielsen says food volume sales continue to fall year-on-year.
Kantar said the British grocery market returning to slow growth after a disappointing Christmas period, delivering a take-home sales increase of 0.2%.
However, Nielsen said the volume of items purchased from the UK's leading supermarkets decreased year-on-year for the fifth consecutive month.
During the four weeks ending 30 January 2016, Nielsen found that sales volumes declined -0.8% – the last time they fell more than this was the four weeks ending 8 November 2014 (-1.1%). Sales value declined -0.6%.
According to Nielsen, Asda had the largest drop (-4.4%) in year-on-year sales among the top 10 supermarkets during the 12 weeks ending 30 January 2016. Sainsbury's was the only top-four supermarket to see an increase (0.2%) in year-on-year sales.
Kantar found that, for the first time since 2011, the Co-operative was the fastest growing non-discounter, increasing sales by 1.4%. Sainsbury's (SBRY) increased its sales for the sixth period in row, growing by 0.6% with a resulting market share increase of 0.1 percentage points to 16.8%. Meanwhile Tesco (TSCO) showed signs of improvement – while revenues fell by 1.6% these are the best numbers posted by the retailer since September of last year.
Kantar said both the discount retailers saw their growth accelerate – Lidl to 18.7% and Aldi to 13.7%. Nielsen found that Aldi's sales were up 18.7% year-on-year whilst Lidl's were up 17.2% – the discounters' combined market share is now 11%, up from 9.4% a year ago.
Apart from the discounters, Marks & Spencer (MKS) had the biggest year-on-year uplift in sales (6.2%), Nielsen said.
Morning update
UK retail sales rose by 2.6% on a like-for-like basis from January 2015, according to the BRC Nielsen Shop Price index.
The 2.6% rise is considerably up on the 0.2% rise seen in the same period in 2015. On a total basis, sales were up 3.3%, against a 1.6% rise in January 2015. This represents the best growth since September, firmly ahead of the 3-month average of 1.6% and the 12-month average of 1.9%.
However, food sales turned slightly negative, with a three month like for like fall of 1.1%. On a total basis the 3-month and 12-month averages for Food stayed unchanged from last month. At 0.2% and 0.3% respectively.
All product categories contributed to the growth, with furniture topping the growth rankings table.
Britvic (BVIC) has announced the appointment of SuperGroup's Euan Sutherland and SABMiller's Sue Clark as independent non-executive directors with effect from 29th February 2016. Sutherland, CEO of SuperGroup and previously CEO of Co-op, will also serve on Britvic's audit committee. Sue Clark, MD of SABMiller Europe, will sit on the remuneration committee. Bob Ivell will step down from the board at the same date.
Russia's largest food retailer Magnit has announced 15.09% retail sales growth in rubles for January 2016. During January 2016 the Company opened (net) 64 stores, taking its total store base to 12,153 stores.
There's little sign of imminent improvement in the City this morning, with the FTSE 100 edging down another 0.1% to 5,686.9pts on the back of yesterday's market plunge.
Grocery stocks have seen a small rebound and this morning's market share data has boosted Tesco, up 1.4% to 175.1p, while Sainsbury's has also edged up 0.7% to 244.7p. M&S is 1.1% to 411.7p.
Away from the FTSE 100, B&M European Value Retail (BME) is up 2.4% to 280.1p, but Ocado (OCDO) has fallen another 2.3% to 234.9p. Also down are McColl's Retail Group (MCLS), down 3.2% to 135.6p, and Applegreen, down 2.4% to 350p.
Yesterday in the City
Fears over the global economy intensified once more yesterday as the FTSE plunged 2.7% to 5,689.4pts.
The plunge, which wiped off more than £40bn from the UK's biggest companies, was driven by financial and mining firms, but grocery firms didn't escape the mass sell-off.
Ocado shares plunged another 6.8% yesterday to 241.4p on the back of a note from Barclays saying it was struggling to keep "faith in an imminent international deal" that is vital for continued growth at the online grocer.
Also falling were Booker (BOK), down 3.8% to 161.8p, Greencore (GNC), down 4.3% to 362.4p, SSP Group (SSPG), down 3.8% to 269.3p, and Dairy Crest (DCG), down 3.5% to 602.5p. Fever Tree (FEVR), which has previously had a strong run of share price growth, feel 7.5% to 590p.
Few grocery and fmcg stocks escaped the falls – the notable FTSE 100 fallers included Sainsbury's (SBRY), down 3.1% to 243.2p, and Associated British Foods (ABF), down 1.7% to 3,046p after news it intends to buy the remaining stake in its South African JV Illovo Sugar.
A rare exception to the fallers yesterday was Hilton Food Group (HFG), which rocketed up 5.4% to 532p.