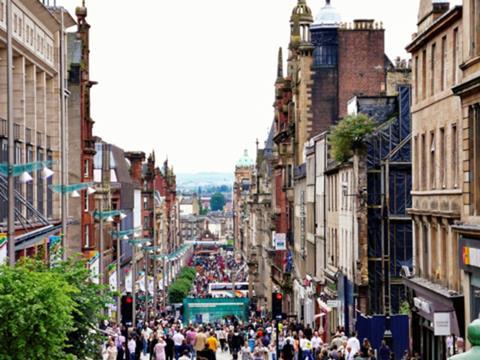 Top story
Britain's grocers saw food sales stabilise in May but the chilly weather and lack of sustained sunshine dampened overall retail figures for the month, according to the latest BRC-KPMG Retail Sales Monitor.
Total food sales grew 0.5% over the three months to May, ahead of their 0.5% decline over the past 12 months, the study found.
However, a like-for-like fall of 1.4% for the sector showed just how much of an impact food price deflation continues to have on the supermarkets' takings.
The BRC said overall retail sales values were unchanged from a year ago in May on a like-for-like basis, with sales rising 1.1% in total terms.
Despite the flat growth, BRD director Helen Dickinson pointed out the good news for food. "After six months of marginal growth year-on-year, we are now starting to see a stabilisation in food sales despite the highly competitive market environment."
David McCorquodale, head of retail for KPMG, added: "With Easter distortions behind us, May's retail sales figures were disappointingly flat.
"The slight improvement in the three-month average food sales reflect the grocer's relentless grind for growth and encouragement can be drawn from that. However, as highlighted by the decline on a like-for-like basis, this recovery continues in the eye of a price deflation storm which continues to benefit the consumer."
Joanne Denney-Finch, chief executive at IGD, said that although the May food sales figures were only a slight improvement on last year there are some positive signs for food companies. "After a prolonged period of food and drink deflation, any growth is a solid achievement, especially given the wet and cool weather in May."
Morning update
The logistical services subsidiary of John Menzies has acquired AJG Parcels (AJG) for £7.5m. Menzies Distribution currently handles more than 100 million delivery units a year and the deal will add the Scottish Highlands and Islands, where AJG services more than three million parcels a year, to its network. John Menzies CEO Jeremy Stafford said: "We are delighted to diversify into the growing e-commerce parcel market. This acquisition allows us to collaborate with the national carriers and use our existing footprint, in the more hard-to-reach territories, to act as a cost effective neutral delivery and collection agent."
Yesterday in the City
Shares in Diageo (DGE) surged 6.6% to finish the day at 1,876.9p – after passing 1,900p at one point in the morning's trading – as the City sat up and took notice of a short report in the Brazilian press linking 3G Capital with a takeover bid of the drinks giant. The owner of Guinness and Smirnoff stormed to lead the day's FTSE 100 risers by some distance as Diageo had its best day in seven years.
Despite the stellar performance of Diageo, London's leading index of shares closed the day 0.2% down to 6,790 points dragged down by pharmaceutical company Shire and engineering group GKN.
Morrisons (MRW) also slipped 0.5% to 172.8p after announcing it was cutting the prices of 200 products in the latest round of the raging price war. Tesco (TSCO) was also down 1.1% to 203.5p with Sainsbury's (SBRY) holding steady at 247.3p ahead of its trading update later in the week.
Elsewhere McColl's Retail Group (MCLS) had a poor day as its stock fell 4% to 166.5p.