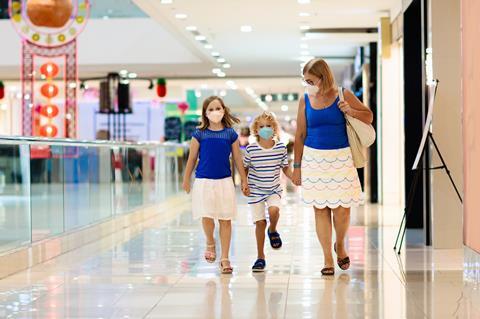 Top story
Shoppers are slowly making their way back to the high street as pubs, cafes and restaurants reopen, according to the latest footfall data from BRC and ShopperTrak.
UK footfall declined by 42.1% in July, a big improvement on the 63% slump in June and the near 90% collapse during April's peak at the height of the pandemic.
Retail parks proved to be most popular last month, with footfall down by 22.4% year on year as the open spaces, higher proportion of supermarkets and larger stores that were quicker to reopen helped shelter the sector from steeper drop-off in business.
High streets recorded a fall of 47.5% in footfall, which represented an improvement on June's drop of 64.5% as the reopening of pubs, cafes and restaurants gave an additional boost.
Shopping centre footfall declined by 48.1% year on year in July, improving on June's -68.3%, but still the most negatively affected location, partly due to enclosed spaces making social distancing more of a challenge.
Northern Ireland saw the shallowest shopping centre footfall decline of all regions, with -23.1%. Wales and Scotland saw higher rates of decline than the UK average, with -53.3% and -54.4% respectively.
BRC chief executive Helen Dickinson said: "July was the first full month in which shops were allowed to open in all parts of the UK.
"While retailers will welcome the improvement in footfall across all shopping destinations, it remains well down on pre-coronavirus levels. It remains too soon to say how well retail will recover in the coming months, but it clearly remains a difficult trading period for many physical retailers."
She added, with retail footfall recovering slower than in many other European countries, much would depend on how fast consumer demand returned.
Andy Sumpter, retail consultant at ShopperTrak, said: "July saw a number of lockdown measures rescinded, and retailers will now look and hope for a return to some form of normality.
"As well as more retailers re-opening in Scotland at the end of June, there was the introduction of mandated face coverings in stores, where adoption and compliance seem to have been good generally. The first full week with face coverings did not deliver any significant uptick in footfall over the prior week. However, it is likely that the good weather was a more significant factor."
Dickinson added, retailers had done their bit to keep shoppers and staff safe.
"We now need government to play their part by providing clear plans for schools, transport, and office working, all of which impact the way we shop. The safety of the public is a top priority and we believe clear communication will help build public confidence and help bolster local high streets and shopping centres during the summer months."
Morning update
The first shots of a post-Covid price war have been fired as the lockdown-driven spike in supermarket inflation dramatically fell back in July, The Grocer reports this week.
The Grocer Price Index, the monthly measure of supermarket inflation collated by Edge by Ascential from more than 60,000 SKUs, showed price inflation falling to a six-month low of 0.4%.
It represented a sharp reversal of the shelf price inflation seen in the early weeks of the coronavirus outbreak, when annual inflation ran at 2% in April and 1.6% in May.
During the lockdown a fall in the number of promotions as supermarkets prioritised supply over sales volumes helped drive a short-term inflationary spike.
The steady rise in promotions has helped depress inflation, but supermarkets have also started taking action on price as they prepare to operate in a coronavirus-driven recession.
To read the full story, see this week's edition of The Grocer or visit thegrocer.co.uk/finance.
The FTSE 100 has made a positive start to the day - just - climbing 0.03% to 6,029.07 pts.
Early risers so far include SSP Group, up 1.9% to 230p, Britvic, up 1.3% to 833p, and Naked Wines, up 0.9% to 430p.
Marstons, down 2.1% to 46p, Glanbia, down 1.9% to €9.45, and McColl's, down 1.5% to 35p, are among the fallers.
Yesterday in the City
The FTSE 100 ended the day 1.2% down to 6,032.48pts as the blue-chip index was weighed down by heavy losses from construction groups Barratt Developments and Taylor Wimpey and resource firms Glencore and Rio Tinto.
Coca-Cola European Partners registered an 0.4% rise to $40.61 after reporting a 26% revenue slump in second quarter and a 48% drop in first half profits as the Covid-19 lockdowns across Europe and Great Britain hit volumes.
McColl's saw Wednesday's 10% gains more than wiped out yesterday after its delayed interim results showed lower during the pandemic led to a first-half loss. Shares in the convenience group slumped 14.6% to 35p yesterday.
Investors retreated from WH Smith after a small rise on Wednesday when the troubled retailer announced 1,500 job cuts and store closures as it battles the hit from the coronavirus crisis. The business' share price fell 8.6% yesterday to 914p.
Other fallers yesterday included C&C Group, down 4.1% to 220p, Diageo, down another 1.8% to 2,576.4p, and Greencore, down 5.1% to 125p.
Naked Wine jumped 3.3% to 434p on the back of a trading update declaring total sales in July are expected to be up 73% on the prior year to bring sales growth in the first four months of the financial year to 76%.
Winners included Greggs, rising 4.1% to 1,357p, Vimto owner Nichols, up 4.4% to 1,218.5p, and Bakkavor, up 2.3% to 65.9p.