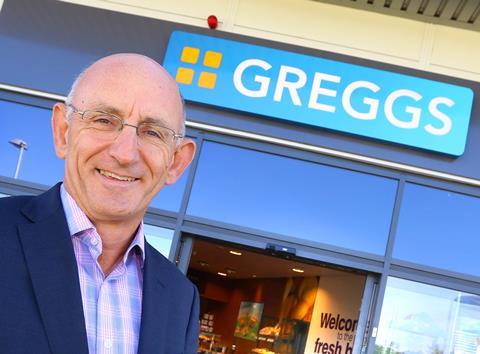 Top story
Food to go and bakery giant Greggs has lifted full year earnings expectations despite "tough trading conditions" as it announces the retirement of long-time CEO Roger Whiteside.
Greggs has named former Asda exec Roisin Currie, currently its retail and property director, as CEO to be effective from its AGM in May 2022, with Whiteside retireing and stepping down from the Board at the close of the AGM.
He will remain available to support the transition process until his notice expires on 5 January 2023. Before the AGM Currie will be appointed as CEO Designate and as an Executive Director with effect from 1 February 2022.
The leadership change comes as Greggs continues to grow despite "challenging" trading contitions amid coronavirus and inflationary concerns.
This morning it announced sales for the financial year to 1 January 2022 were £1.23bn, representing a two-year increase of 5.3%.
Across 2021 two-year like-for-like sales in company-managed shops were 3.3% lower than seen in 2019. I
In the fourth quarter of 2021 two-year like-for-like sales in company-managed shops grew by 0.8%, with a strong performance in October being followed by "more challenging" conditions as consumers responded to precautionary messages relating to the new coronavirus variant.
The fourth quarter results were achieved against a backdrop of continued disruption to staffing and supply chains, it said.
Inflationary pressures also increased towards the end of 2021 and are likely to remain elevated in 2022.
However, operational cost control in the final quarter of 2021 was "good" and the group expects to report a full year outcome slightly ahead of previous expectations it reports preliminary results for 2021 on 8 March 2022.
During the year it opened 131 new shops (including 50 franchised units) and closed 28, growing the estate to 2,181 shops as at 1 January 2022.
Greggs said it has a strong pipeline of new shop opportunities and expect to open around 150 net new stores in the year ahead.
CEO Roger Whiteside commented: "Greggs has made great progress in 2021 despite tough trading conditions. Our teams across the business have done a magnificent job coping under difficult circumstances and, to recognise their hard work, we have brought forward the planned 2022 pay awards.
"We enter 2022 with a strong financial position that will support our ambitions to accelerate the rate of growth in our shop estate whilst developing new digital channels and extending the trading day. Whilst conditions in the first few months of 2022 are likely to remain challenging, we are confident that we are well placed to make progress on the many attractive opportunities that lie ahead."
On the CEO transition, chairman Ian Durant said: "Roisin has played a central role in the success of Greggs as it has developed as a multi-channel food-on-the-go business and I am delighted that she will lead the next phase of our growth as Chief Executive.
"She has deep experience of our culture and our strategic plan, and will lead with energy and character. Roger Whiteside has been an outstanding Chief Executive and I wish him well for the future."
Currie added: "I am delighted to be appointed as Chief Executive at a time when Greggs has so much potential ahead of it. Having been a senior executive in the business for twelve years I understand our values-driven approach and the contribution that our 25,000 colleagues make each day. We have created a plan for strong growth and further strategic development of Greggs and I look forward to driving this in the coming years."
Prior to joining Greggs in 2010, Currie worked at Asda where she held people director roles responsible for the organisation's retail and distribution operations.
Greggs shares are down 1.8% to 3,311p on the news.
Morning update
B&M Bargains owner B&M European Value Retail has also hiked its full year earnings forecast after a "strong" performance over the festive period.
Bringing forwards its seasonal trading update, B&M said it saw group revenue growth of 0.1% on a year-on-year constant currency basis in its third quarter to 25 December, representing strong growth on a two-year basis.
Total B&M UK fascia revenue was down 2.5% year-on-year, with one-year like-for-like revenue down 6.2% but up 14.0% on a two-year basis versus pre-pandemic levels.
B&M said it saw strong performance across categories, with "excellent sell-through of seasonal ranges supporting gross margin in the quarter".
The performance in Heron Foods2 continues to improve, with positive two-year LFL revenue growth, while it saw sustained mometum in B&M France, with Q3 revenues up 30% year-on-year.
In total nine gross new B&M UK fascia stores opened in Q3, with two closures and it expects to open 13 further stores before its financial year end.
As a result of the strong trading, full year group adjusted EBITDA is now expected to be in the range of £605m to £625m, ahead of the current analysts' consensus estimate of £578m.
CEO Simon Arora commented: "The group has delivered a very strong Golden Quarter, with our two-year like-for-like performance demonstrating strong retention of new customers. Our decision to take receipt of imported Christmas stock early in the season meant we were able to provide customers with great products at great prices.
"The consistency of performance in the core B&M UK business reflects the growing appeal of our stores as a destination visit for seasonal products, as well as the strength of our supply chain. I would like to thank all of our colleagues for helping to deliver our best-ever Christmas.
"Although the pandemic continues to create challenges for retailers and consumers alike, our relentless focus on value-for-money remains undiminished. Despite ongoing supply chain disruption, inflationary pressures and uncertainty surrounding possible Covid-related restrictions, we remain confident in B&M's prospects for 2022."
Elsewhere this morning, on what appears to be a good morning for the wider retail sector, clothing bellwether Next has also hiked its earnings expectations after a strong festive trading season.
In the eight weeks to 25 December full price sales were up 20% versus two years ago, which was £70m ahead of our previous guidance for the period.
As a result it has increased full year profit before tax guidance by £22m to £822m which would be up 9.8% versus two years ago.
Ocado has announced an event on 26 January to "unveil the next leap of game-changing technology and innovation" during a virtual product launch event.
No further details are currently forthcoming.
Ocado stated: "We have a long tradition of solving some of the toughest technology challenges of our age - join us and be among the first to see the next leap in innovation."
Finally, a hoped for last minute Christmas boost for UK retail destinations dampened by the rise of Omicron, working from home and consumer nervousness, according to the latest data from Springboard.
Its data from 28th November 2021 to 2nd January 2022 showed footfall worsened noticeably during December, to -18.6% below 2019 compared with -14.5% in November.
Footfall declined from 2019 by -22.2% in high streets, -24.1% in shopping centres and -4.9% in retail parks.
It said the figures reflected increased consumer nervousness around the rapid rise in infections and the risk of missing out on Christmas, households isolating due to infection and the re-introduction of working from home
In the fourth week (week beginning 19th December) the gap from 2019 narrowed to -13.8% across all UK retail destinations from -19.1% in the week before, as consumers made the most of the six available trading days in the week running up to Christmas Day on Saturday.
The most improvement occurred in retail parks, where footfall was +5.1% higher than in 2019, supported by shoppers visiting food stores to stock up on Christmas groceries.
"The biggest challenge for the retail sector in the weeks to come will be the ongoing working from home guidance that suppresses footfall, combined with increasing staff shortages due to isolation and the great return of goods purchased over the Christmas period," it stated.
On the markets this morning, the FTSE 100 has given up some of its gains this week, falling 0.8% to 7,459.4pts so far this morning.
Early fallers include THG, down 5% to 196.6p, Just Eat Takeaway.com, down 4% to 3,679p, Deliveroo, down 3.8% to 195.4p and Ocado, down 2.8% to 1,561p.
Risers include McBride, up 4.6% to 59.8p, Parsley Box, up 4.5% to 35p and Sainsbury's, up 1.6% to 284.3p.
Yesterday in the City
The FTSE 100 consolidated its Tuesday gains yesterday, rising a further 0.2% to close at a new post-Covid high of 7,516.9pts.
Ocado Retail's strong performance in the Christmas Kantar market share figures saw JV partner Marks & Spencer rise 4.7% to 249.7p, while OCado itself was up 3.2% to 1,605.5p.
Other risers included Naked Wines, up 2.7% to 640p, Nichols, up 2.3% to 1,540p, Deliveroo, up 1.7% to 203.2p, Kerry Group, up 1.6% to €116.75, and B&M European Value Retail up 1.5% to 634.2p.
The day's fallers included Hotel Chocolat, down 3.7% to 501p, PZ Cussons, down 3.1% to 201p, McBride, down 3.1% to 57.2p, Domino's Pizza Group, down 3% to 446p, Hilton Food Group, down 2.2% to 1,152p and Bakkavor, down 1.5% to 128p.