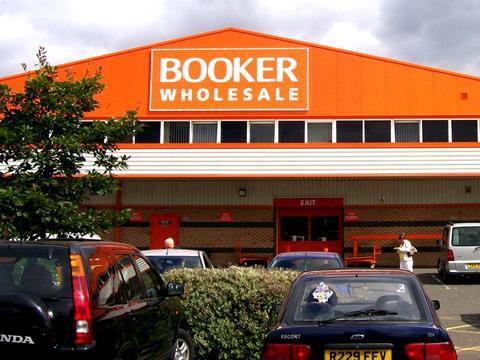 Top story
Profits at Booker (BOK) leapt 9% in the first half as the wholesaler increased revenues by 2.5% to £2.6bn despite a declining tobacco market.
Like-for-like sales in the 24 weeks to 8 September rose 2.7%, with non-tobacco growth of 7.7%.
Booker said the drive into the catering market was working, with like-for-like sales to caterers up 8.1%. Online sales also increased 11% to £560m in the period.
Booker Direct, Ritter Courivaud, Chef Direct, Classic and the Indian business all continued to make progress, the group added.
Tobacco continued to be a weak spot for Booker as changes in legislation for packaging and display of products contributed to an 8.7% fall in like-for-like sales in the half.
Operating profits jumped 9% to £89.1m and pre-tax profits were also up 9% to £88m.
"Booker Group continues to make good progress with like-for-like non tobacco sales up 7.7%," CEO Charles Wilson said.
"Our plans to 'Focus, Drive and Broaden' Booker Group are on track. The competition review of the planned merger with Tesco is progressing. We continue to help our retail, catering and small business customers prosper through improving our choice, prices and service."
The group's non-tobacco revenues in the first four weeks of the current half year was ahead of last year, Booker added.
It is not making any making forward-looking statements during the offer period for the proposed £3.7bn merger with Tesco.
The potential deal is undergoing an in-depth phase 2 investigation by the Competition and Markets Authority, with provisional findings expected by the end of this month, ahead of a final report by the end of the year.
Shares in Booker have dipped 0.1% so far today to 205.1p.
Morning update
Sales in the train stations and airports branches of WH Smith (SMWH) have overtaken its traditional high street stores for the first time in the retailer's 225-year history.
The travel division is now the largest part of the group in terms of both revenues and the bottom line, accounting for more than 60% of trading profits.
Sales in the travel arm increased 9% in the year to 31 August, with like-for-like growth of 4%, and trading profits rose 10% to £96m.
WH Smith has benefitted from an increase in passenger numbers around the world but has also invested heavily in the growing business. It opened 15 new units in the UK during the year, growing its portfolio to a total of 582 outlets. The group also won a further 41 units in the international business, making a total of 273 units won, of which 233 are open.
High street sales continued to decline in the year, down 5% in total and 4% on a like-for-like basis, but its trading profits remained flat £62m as it protected margins and controlled costs.
Total group revenues nudged up 2% to £1.2bn but were flat on a like-for-like basis, with trading profits up 6% to £158m and pre-tax profits 7% higher than a year ago at £140m.
WH Smith hiked its dividend by 10% to 48.2p a share and the group announced a further share buyback of £50m, which reflected confidence in future prospects, CEO Stephen Clarke said.
"We have delivered a good performance across the group," he added. "The travel business continues to perform well with strong revenue growth, up 9% in the year. For the first time, revenue in travel has overtaken high street and is now the largest part of the group in both revenue and profit.
"During our 225th anniversary year, we were delighted to open our 225th international store and now have 233 stores open.
"Looking ahead, we will focus on profitable growth, cash generation and new opportunities to profitably invest in the future. While the economic environment remains uncertain, we are well positioned for the current year and beyond."
Shares in the retailer have fallen 2% since markets opened to 2,034.6p.
The CMA has given the green light to the £200m takeover of Hungry House by Just Eat (JE) after finding no competition concerns.
The monopoly watchdog said in its provisional decision that Hungry House provided limited competition to Just Eat because it is much smaller in size and offered too few unique restaurants, making it increasingly difficult for the business to attract and retain consumers.
It added that the industry is evolving rapidly following the entry of platforms such as Deliveroo, Uber Eats and Amazon, with these companies generally presenting a greater competitive challenge to Just Eat than Hungryhouse.
Martin Cave, inquiry chairman for the CMA, said: "We carefully assessed competition in this rapidly evolving industry to make sure this merger would not result in increased prices or reduced quality of offering for either restaurants or their customers. We obtained evidence from all the major industry participants and carried out surveys, with the public and restaurants, to understand how the merger could impact both types of customers.
"We found that Hungry House was a weak competitor to Just Eat and so competition is unlikely to be substantially reduced by this merger, especially given the entry and rapid expansion of innovative suppliers in this sector."
The CMA is now asking for views on these provisional findings and will assess all the evidence before making a final decision.
Just Eat welcomed the announcement and said it would continue to work with the CMA ahead of its publication of a final decision, expected in November.
"We are pleased that the CMA has provisionally concluded that this transaction does not lessen competition," the company said in a short statement to the stock exchange. "We look forward to continuing to deploy our technology and expertise to help more independent restaurants develop and grow their businesses, while offering an even better service to consumers."
Just Eat's shares have soared 7% on the news to 750p.
Equatorial Palm Oil (PAL) has secured a loan of up to $30m to continue to develop the operations of its 50% owned joint venture Liberian Palm Developments. The AIM-listed palm oil development and production company with operations in Liberia, West Africa, entered into the loan agreement with KLK Agro Plantations (KLK Agro), a wholly owned subsidiary of Kuala Lumpur Kepong Berhad (KLK).
It will also use the money to finalise the construction of the first stage of the new 60 metric tonne palm oil mill being built on Palm Bay estate, announced in April 2016.
Geoffrey Brown, executive director of Equatorial Palm Oil, said: "This funding from KLK Agro will drive our operations into production in the latter part of 2018. The commissioning of the palm oil mill, expected in Q3 2018, will be a very significant milestone not only for the company but also for the communities amongst whom we operate and for the Liberian Government."
Yesterday in the City
WH Smith rose 1.2% to 2,071p ahead of this morning's results but Booker fell 0.6% to 205.3p.
Risers yesterday included Nichols (NICL), up 3% to 1,822p, Hilton Food Group (HFG), up 2.5% to 780.5p, PureCircle (PURE), up 2.5% to 455p, and Premier Foods (PFD), up 1.9% to 40p.
Conviviality (CVR), Tate & Lyle (TATE) and Reckitt Benckiser were among the fallers on a quiet day for markets, down 1.6% to 307.3p, 1.1% to 654.5p and 0.7% to 7,038p respectively.
The FTSE edged down 0.1% to 7,533.81 points.